We know you're probably sick at this point of reading thinkpieces about whether the recent reunion between Survivor and "classic line-up" frontman Jimi Jamison signals an artistic resurgence for the group, or if the band is an "authentic" enterprise, or if even asking such questions points to an internet bias against rockin' '80s arena-rock jams. But if you can indulge us just one more story about Survivor this week, we'd like to report that the band is suing Republican presidential candidate Newt Gingrich for using the song "Eye Of The Tiger" as entrance music for his campaign stops. "Tiger" is famous for being the theme song from Rocky III, which is the one where Rocky fights a man commonly referred to as the black Mitt Romney, Mr. T. The lawsuit was filed by the publishing company owned by the song's co-author, Survivor guitarist Frank Sullivan, who alleges that Gingrich used "Eye Of The Tiger" without permission and therefore violates the song's copyright. He could've also added that Gingrich eyes are better likened to small rodents or garden reptiles.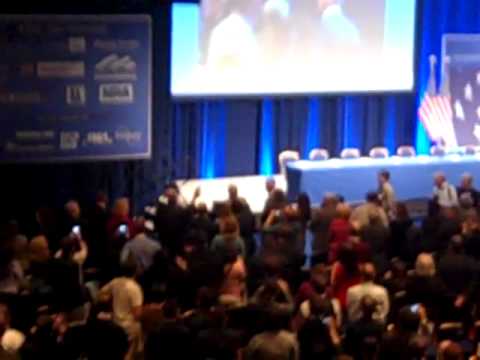 Source
Does Survivor have a case? In past instances of musicians suing politicians for using their songs in campaigns without permission, it was over an ad, not a rally. Tom Petty issued a cease-and-desist letter to Michele Bachmann's campaign over its use of "American Girl" at rallies in 2011, though it never progressed to a lawsuit. Many campaigns purchase all-purpose licenses from performance organizations like ASCAP, which could nip this case in the bud if Gingrich's people did that. There could also be a fair use exception. At any rate, it looks like we've got a real match-up here that's at least as compelling as Rocky V. [via Billboard]
Submit your Newswire tips here.