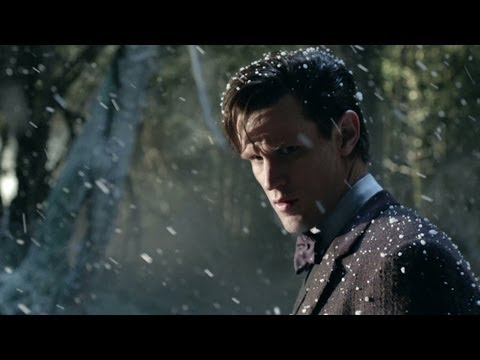 Source
After airing a blink-and-you-miss-it teaser at the end of the Doctor Who 50th Anniversary special, BBC has now released a longer look at Matt Smith's final episode as the titular Time Lord. Smith's popular 11th Doctor will regenerate into Peter Capaldi in this year's Christmas special, "The Time Of The Doctor." And while the trailer doesn't reveal a ton of details on the plot leading up to that, it does feature just about every monster the 11th Doctor has ever battled converging at Trenzalore, the site of the Doctor's grave. There's mention of a "trap," Clara seems to be begging an unknown person to help the Doctor, and Smith gets a big speech.
The BBC has also released several new photos from the special alongside an official synopsis: "Orbiting a quiet backwater planet, the massed forces of the universe's deadliest species gather, drawn to a mysterious message that echoes out to the stars—and amongst them, the Doctor. Rescuing Clara from a family Christmas dinner, the Time Lord and his best friend must learn what this enigmatic signal means for his own fate and that of the universe."
Smith has played the Doctor—and earned much critical praise for doing so—for the past five years, and he's been the face of the show as it garnered more and more popularity in the U.S. While many Whovians will be sad to see him hang up his bowtie for good, Capaldi should bring a much-needed new energy to the long-running sci-fi program. And thankfully, he'll do it in one continuous run: Showrunner Steven Moffat recently announced that season eight will not be divided into two segments, something that hurt the pacing of the show's seventh season. Capaldi's episodes most likely won't begin airing until August 2014, so this Christmas special will have to tide fans over for quite a while. "The Time Of The Doctor" airs on BBC America December 25 at 9 p.m. EST.