A traffic circle in Jaworzno, Poland has been dubbed "Jeff Hanneman's Circle Pit" in honor of the late Slayer guitarist. The circle's renaming comes courtesy of ART-COM Ltd., a crazy company full of Slayer fans that won naming rights to the roundabout via a charity auction. Proceeds from the auction went toward purchasing specialized medical equipment for children and senior citizens. The roundabout will officially be called Jeff Hanneman's Circle Pit for one calendar year—which doesn't entirely take away the pain of the guitarist's exclusion from the Grammy "In Memoriam" tribute, but it's still pretty awesome.
Hanneman died in May 2013 at the age of 49, from alcohol-related cirrhosis of the liver. He would have been 50 this past January 31.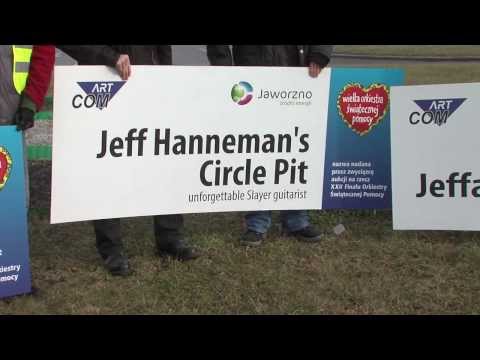 Source
Submit your Newswire tips here.