After futzing around with intimations that Lady Gaga could become the new singer for Queen, the band has decided to get serious, drafting American Idol runner-up and anthropomorphic bottle of Manic Panic nail polish Adam Lambert to replace the late Freddie Mercury. "That's impossible," Lambert said regarding his replacing the late Freddie Mercury to the U.K.'s Daily Star, where he first announced his intention to replace the late Freddie Mercury. "The intention is to pay tribute to Freddie and the band by singing some fucking great songs," he continued about his intention to replace the late Freddie Mercury, and like so many, willfully ignoring Paul Rodgers.
Conveniently headline-grabbing Gaga rumors aside, speculation that Lambert might be Queen's top choice for the job had run rampant ever since the band backed established Queen fan Lambert during a 2009 Idol appearance—which you can see below by placing a thumb over the face of actual Idol winner Kris Allen, who is definitely not the new lead singer of Queen—followed by a performance at the MTV Europe Music Awards last November. The Lambert-led, slightly tongue-ier version of Queen will debut at this summer's Sonisphere Festival, with future performances and even possibly recordings to be worked in around Lambert's solo career—which, coincidentally, includes a new album that just happens to see release next month. So, the timing on that worked out pretty well for everybody. [via Rolling Stone]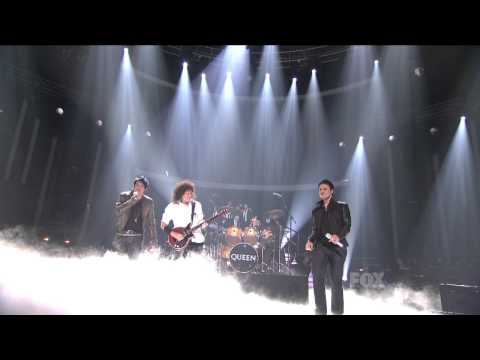 Source
Submit your Newswire tips here.