Trains are an underappreciated way to travel. Hop aboard an Amtrak, and you'll get scenic views, comparatively spacious seats, and even a cafe car if you're feeling hungry and/or want to reenact that one scene from White Christmas. But the downside of Amtrak travel, apparently, is that the train might just spray a group of waiting people with a giant sheet of snow as it pulls into the station for the first time since Winter Storm Stella blanketed the East Coast. In other words, this Amtrak train basically became the train from Snowpiercer (minus the horrific social inequality and people who have to survive on less-than-appetizing protein blocks). And Nick Colvin was there to capture the whole, glorious thing in slow motion.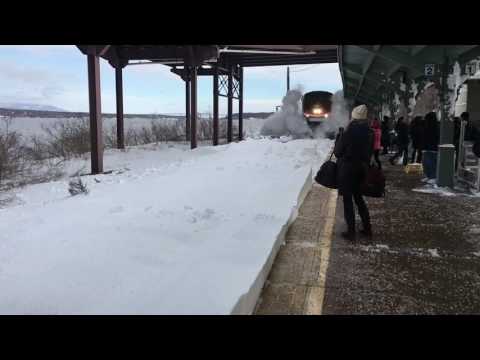 The slow motion adds a horror-movie-like quality to the video. We can see the train shoving huge mounds of snow into the air, but no one on the platform has time to react before they're absolutely slammed with snow. Colvin claims the train was running at a "faster than usual pace," though Amtrak released a statement saying the train's engineer was following protocol, and the company always advises customers to stand back from the platform edge as the train approaches. One has to imagine these snow-drenched customers weren't exactly thrilled about sitting on a train in wet clothing during the two-hour journey from Rhinecliff to New York Penn Station. But, hey, at least it's still better than living on that actual Snowpiecer.
Submit your Great Job, Internet tips here.