Prolific whistler Andrew Bird will release Hands Of Glory on Oct. 30. According to press materials, the new record is a companion piece to his last record, Break It Yourself, and features "old-time" reinterpretations of his own songs, as well as covers of country tunes by the Carter Family, The Handsome Family, and Minneapolis band Alpha Consumer. All the songs were recorded with Bird and his crew playing to a single microphone, just like in old-time radio studios and precious recreations of those studios.
Andrew Bird is taking his O Brother-infused roadshow out this fall, where he'll probably throw some electrified songs in there too. Dates are below.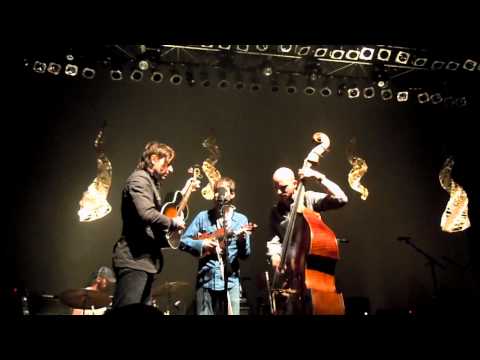 Source
Sept. 26—Overture Hall—Madison, Wisconsin
Sept. 27—Midpoint Music Festival—Cincinnati, Ohio
Sept. 29—Singletary Center—Lexington, Kentucky
Sept. 30—Murat Theatre—Indianapolis, Indiana
Oct. 1—Orange Peel—Asheville, North Carolina
Oct. 2—Neighborhood Theatre—Charlotte, North Carolina
Oct. 4—Tennessee Theater—Knoxville, Tennessee
Oct. 5—Georgia Theater—Athens, Georgia
Oct. 6—Charleston Music Hall—Charleston, South Carolina
Oct. 8—Fillmore At The Jackie Gleason Theater—Miami Beach, Florida
Oct. 9—Ferguson Hall At The Straz Center For The Performing Arts—Tampa, Florida
Oct. 10—House Of Blues—Orlando, Florida
Oct. 12—House Of Blues—Houston, Texas
Oct. 13—Austin City Limits Festival—Austin, Texas
Submit your Newswire tips here.