Having conquered both the wrestling ring and the big screen, Dwayne "The Rock" Johnson is now looking to conquer YouTube as well. He's currently got 1.4 million subscribers on his channel, where he's been releasing comedy videos and Q&As since July. So when he debuted a video last week called "Lin-Manuel Miranda & Dwayne 'The Rock' Johnson on The Making of Millennials: The Musical" it seemed like just a one-off sketch. But it turns out there's an actual 15-minute musical behind the fake behind-the-scenes antics as well.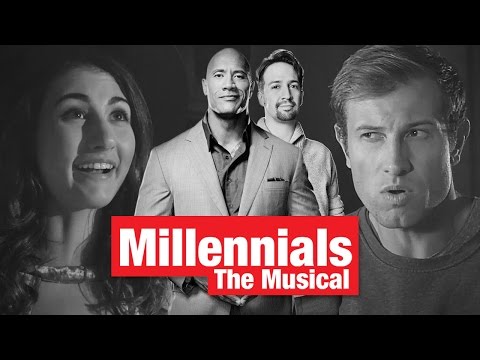 While the conceit is that Miranda and Johnson (who seem to have become fast friends since working on Moana) wrote the musical together, it was actually written by Scott Brown, Troy Guthrie, Erin Lardy, and Dylan Sachse with music and lyrics by Sonya Belousova, Giona Ostinelli, and Scott Brown. The tongue-in-cheek show is basically a contemporary riff on Grease. Prototypical Millenial Crystal falls for luddite Jack, and they learn a lesson about finding balance in the modern age. Along the way there are plenty of jokes about start-ups, EDM concerts, and artisanal products ("It's like stuff you would normally buy, but it costs a lot more"). The fake musical is filled with YouTube stars like Meg DeAngelis and Motoki Maxted because, although The Rock is new to this whole YouTube thing, he's already learned the value of a good collab.
Submit your Great Job, Internet tips here.