In a new Billy On The Street sketch Billy Eichner takes on the complicated and oft-debated question of whether the misdeeds of a celebrity should color opinion of his or her work. But Eichner's strategy for dealing with this thorny issue is to construct an obstacle course in which a contestant—Gotham's Robin Lord Taylor—has to actually separate the art from the artist.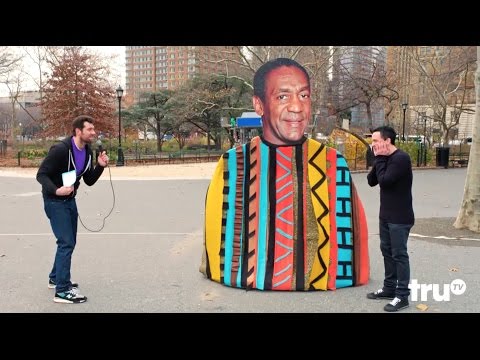 Thus Taylor must rummage through Shia LaBeouf's beard for a DVD of Wall Street: Money Never Sleeps, and remove a copy of What Women Want from a cross holding an effigy of Mel Gibson. All the while Eichner provides color commentary. "No, it's not Fat Albert, it's a legally blind rapist," Eichner says as Taylor approaches a giant Bill Cosby cut-out to dig The Cosby Show out of his sweater.
Submit your Newswire tips here.