Legally denied the opportunity to exploit his infamy on I'm A Celebrity… Get Me Out Of Here last summer—his wife Patti took his place among Speidi, Sanjaya, and the bees—disgraced former Illinois governor Rod Blagojevich has landed a slot on the third season of Celebrity Apprentice, a far more prestigious crappy reality show. The hairdown between Blago and Donald Trump will undoubtedly draw the most interest in the show and surely deepen the humiliation of Illinoisans (like many of us!) who prefer our institutional corruption to be less flagrant.
Blago also lends a measure of star power to a cast that desperately needs it. Apart from familiar pop-culture burnouts like Cyndi Lauper, Bret Michaels, Sinbad, and Sharon Osbourne, and a couple of once-revered athletes in troubled outfielder Darryl Strawberry and gold-metal sprinter Michael Johnson, there's a lot of "who's" and "huh's" in this bunch. Among the not-so-famous: WWE wrestlers Maria Kanellis and Bill Goldberg, comedian Carol Leifer, lingerie model Selita Ebanks, swimmer Summer Sanders, chef Curtis Stone, and actress/children's book writer Holly Robinson Peete. All will compete for charity and one last, desperate minute in the spotlight.
And because it can't be shown enough, here's Rod appearing at a loading dock in Chicago, introducing a Fabio impersonator before launching into his rendition of "Treat Me Nice":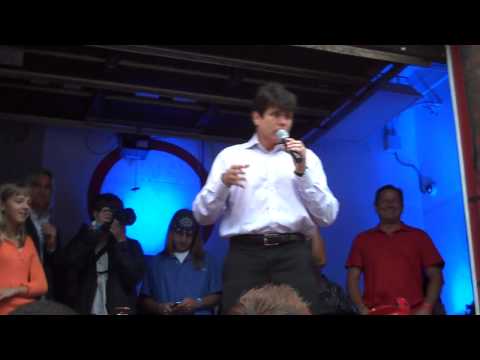 Source
Submit your Newswire tips here.