It would appear that Bob Dylan doesn't give a damn about winning the Nobel Prize in Literature. The singer-songwriter hasn't mentioned it at any of his shows, he still hasn't returned any of the Nobel committee's calls, and, most recently, mention of the award has disappeared from Dylan's website.
If anything, Dylan's apparent apathy towards the Nobel Prize confirms that maybe, just maybe, the dream of the '60s is still alive. Dylan never appeared to care for any award he received: In 1963, he received the Tom Paine Award from the Emergency Civil Liberties Committee honoring his civil rights work. The songwriter responded by criticizing The U.S. ban on travel to Cuba and mentioning that he "saw some of myself" in Lee Harvey Oswald. In his autobiography, Dylan recalled feeling that he was "losing all kinds of credibility" upon being awarded an Honorary Doctorate of Music from Princeton in 1970. Even when he appeared to slightly enjoy receiving accolades, Dylan—distinctly different from his songwriting—was a man of few words.
"This is quite something, really," Dylan began his acceptance speech at the 2001 Golden Globes (Best Original Song, "Things Have Changed," from Wonder Boys). "Thanks Curtis [Hanson], thanks Hollywood Foreign Press, thank my band, thank the record company, and everybody in my family. That's about it, really."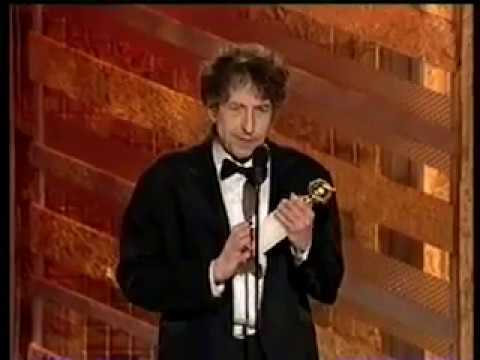 "He wouldn't come to the rehearsal; usually, all these guys are practicing before the set in the evening," explained President Barack Obama about Dylan's 2010 appearance at the White House. "He didn't want to take a picture with me; usually all the talent is dying to take a picture with me and Michelle before the show, but he didn't show up to that." He added, "That's how you want Bob Dylan, right? You want him to be a little skeptical about the whole enterprise."
Tim Heidecker's "Talkin' Nobel Prize" even suggested (or perhaps predicted) Dylan's ambivalence to the award, featuring the lyrics, "take your medal and throw it away" and "See how I despise the prize."
Submit your Newswire tips here.