Rose Windows' latest record, The Sun Dogs, came out earlier this year on Sub Pop, but the band is only now debuting a new music video. The psych-rock band's "Heavenly Days" clip was directed by Owen Cook and takes its inspiration from the recent global kerfuffle over gay marriage. In the clip, various famous statues come to life and court the same-sex partner of their choosing. It's all very weirdly romantic.
Rose Windows will be playing CMJ later this month, as well as a number of other national tour dates listed below.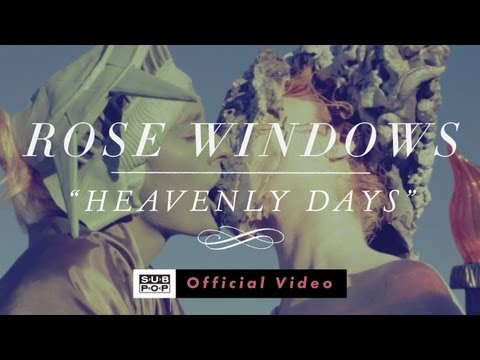 Source
Rose Windows tour 2013
Oct. 4—Caffe Mela—Wenatchee, Washington
Oct. 5—Ole Beck VFW—Missoula, Montana
Oct. 7—Aquarium—Fargo, North Dakota
Oct. 8—Icon Lounge—Sioux Falls, South Dakota
Oct. 9—Triple Rock Social Club—Minneapolis, Minnesota *
Oct. 10—Frequency—Madison, Wisconsin *
Oct. 11—Empty Bottle—Chicago, Illinois *
Oct. 12—Pike Room—Pontiac, Michigan *
Oct. 13—Beachland Ballroom—Cleveland, Ohio *
Oct. 14—Horseshoe Tavern—Toronto, Ontario *
Oct. 16—T.T. The Bears—Cambridge, Massachusetts *
Oct. 17—Music Hall Of Williamsburg—Brooklyn, New York
Oct. 17—Death By Audio—Brooklyn, New York
Oct. 18—Milkboy—Philadelphia, Pennsylvania *
Oct. 19—Rock 'N Roll Hotel—Washington, D.C. *
Oct. 20—Local 506—Chapel Hill, North Carolina *
Oct. 21—The Earl—Atlanta, Georgia *
Oct. 23—Retrofit Records—Tallahassee, Florida *
Oct. 25—Fitzgeralds—Houston, Texas *
Oct. 26—The Foundry—Dallas, Texas *
Oct. 27—Holy Mountain—Austin, Texas *
Oct. 28—Opolis—Norman, Oklahoma *
Oct. 30—Hi-Dive—Denver, Colorado *
Nov. 1—State Room—Salt Lake City, Utah *
Nov. 2—Neurolux—Boise, Idaho *
Nov. 8—Crystal Ballroom—Portland, Oregon +
* with Moondoggies
+ with Stephen Malkmus And The Jicks 
Submit your Great Job, Internet tips here.