Having released its debut, five-song EP Over Easy earlier this year, New York two-piece Diet Cig has made huge strides since then. On its follow-up EP for Father/Daughter Records, Sleep Talk, Alex Luciano and Noah Bowman smoothed out all the rough edges to create a pair of punky pop songs that sound like the spiritual successors to Tiger Trap. The A.V. Club is premiering the video for "Sleep Talk" below, a clip that finds Luciano and Bowman taking a road trip in the same way that Conan O'Brien used to take his desk out for a spin. Sleep Talk is out now, and the band's upcoming tour dates can be found below.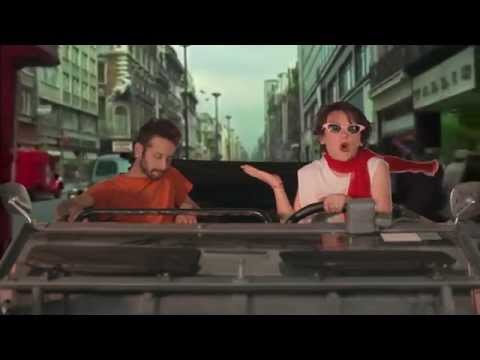 Diet Cig tour dates
Sept. 18—Club Downunder—Tallahassee, Florida
Sept. 19—40 Watt Club—Athens, Georgia
Sept. 20—The Masquerade—Atlanta, Georgia
Sept. 21—Hi Tone Cafe—Memphis, Tennessee
Sept. 22—Subterranean—Chicago, Illinois
Sept. 23—UFO Factory—Detroit, Michigan
Sept. 24—Founders Brewery—Grand Rapids, Michigan
Sept. 25—Mahall's—Cleveland, Ohio
Sept. 26—Midpoint Music Festival—Cincinnati, Ohio
Sept. 27—Spirit—Pittsburgh, Pennsylvania
Sept. 28—Babe City—Washington, D.C.
Sept. 29—Ortlieb's Lounge—Philadelphia, Pennsylvania
Sept. 30—Great Scott—Allston, Massachussetts
Oct. 1—Aurora—Providence, Rhode Island
Oct. 2—Cornell University—Ithaca, New York
Oct. 3—Palisades—Brooklyn, New York
Oct. 13—BSP Kingston—Kingston, New York
Oct. 14—Cake Shop - New York, New York (CMJ Day Party)
Oct. 15—Cake Shop—New York, New York (Cake Shop CMJ Showcase)
Oct. 16—Pianos - New York, New York (Deli Magazine CMJ Showcase)
Oct. 17—Pete's Candy Store—Brooklyn, New York (Riot Act Media CMJ Happy Hour)
Oct. 17—Knitting Factory—Brooklyn, New York (Flower Booking CMJ Showcase)
Oct. 18—Palisades—Brooklyn, New York (Father/Daughter + Miscreant CMJ Showcase)
Submit your Newswire tips here.