There are few things more metal than giving a sword a name; except perhaps the literal names of heavy metal bands. In preparation for the fast-approaching season six, a bunch of Game Of Thrones cast members gathered for a good cause to answer whether or not a name belongs to heavy metal band or a Westerosi sword. "Lightbringer," "Crimson Death," "Dark Sister," and other hardcore names are all posed to the likes of Lena Headey, Nikolaj Coster-Waldau, Sophie Turner, and Maisie Williams, among other (possibly doomed) castmates to identify.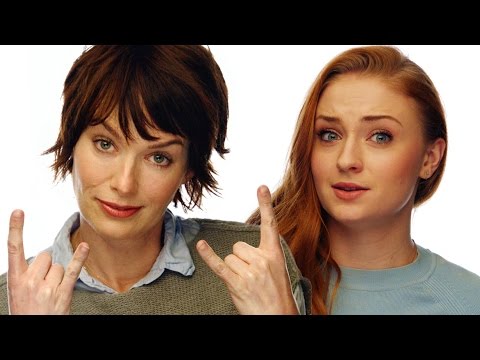 Some of the actors fare better than others at the guessing game; to be fair it isn't as easy as it first appears, and some have clearly played "knifey, bandy" before. The video is part of an Omaze campaign to raise awareness and funds for the International Rescue Committee. Those who contribute to the project are entered in a contest to be sent to the season-six premiere in Los Angeles, as well as a guaranteed case of the warm and fuzzies for helping out a good cause. Because there's nothing more metal than entering a charity raffle, right?
Submit your Great Job, Internet tips here.