Hanson—the band composed of three young brothers, their cherubic faces ringed with auric halos of long blonde hair that flopped insouciantly while they rollerbladed through an eternal L.A. summer—will embark upon a 25th anniversary tour this May, as your inevitable creep toward death becomes a nauseating blur. The group originally formed in 1992, back when eldest brother Isaac was but 11, Taylor was just 9, and drummer Zac was a mere 6 years old, the adorable trio performing its first shows as an a cappella combo around their hometown of Tulsa. Today, Isaac is a 36-year-old father of three; Taylor is a 33-year-old father of five; Zac is a 31-year-old father of four; and you don't know where the time went. One day you were just a teenager yourself, the days and nights stretched endlessly out before you, as full of joy and carefree nonsense as the lyrics of "MMMBop." The next thing you know, those little kids from Hanson are popping out enough children to repopulate a dying Earth with several lite-rock bands of their own, and you've noticed that, when you raise your eyebrows now, your forehead wrinkles look like Krang (a reference none of your coworkers get, the little shits). And now Hanson is celebrating a quarter-century of music. Jesus Christ, you're halfway to the grave.
Hanson's upcoming "Middle Of Everywhere" tour also commemorates the 20th anniversary of Hanson's debut, Middle Of Nowhere, the album whose smash hit singles—like "MMMBop," "Where's The Love," and "I Will Come To You"—were among the first signs that popular culture was already passing you by, its strange, cheery sound aimed at a younger, livelier demographic who regarded your moody "alternative rock" as the music of crusty, Gen-X dinosaurs.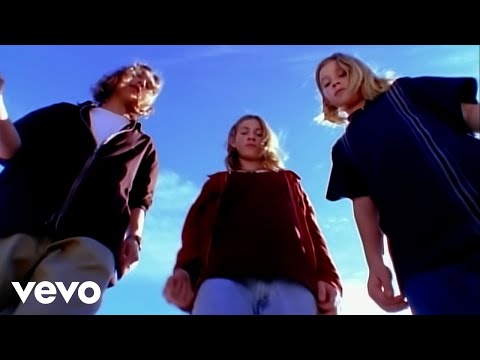 This feeling would only calcify on subsequent releases such as 2000's This Time Around, 2004's Underneath, and 2007's The Walk, on which the group made bids to outgrow the sunny pop that made them famous through various stabs at brawny stadium rock and even funk—each of these records being branded by critics as a more "mature" direction for Hanson that you laughed off, with the cockiness that comes from being in the prime of your life, so certain of your own trajectory. But hey, who's laughing now? It's another goddamn decade later, and Hanson's continued maturation has seen the brothers form their own independent record company, start a brewery, and launch The Hop Jam Beer and Music Festival. While you scoffed at them, the Hanson boys became Hanson men—entrepreneurs and captains of their own industries—and you just got older and more uncertain of your own place in the world.

If only you had listened to the wisdom from the mouths of babes—now elder sages—when they said to hold on the ones who really care, because in the end they'll be the only ones there. And when you get old and start losing your hair, can you tell me who will still care? Can you tell me who will still care? Caaaaaaare?
MMMMBOP, BA DUBA DOP
BA DU BOP, BA DUBA DOP
BA DU BOP, BA DUBA DOP
BA DU, YEAH
MMMBOP, BA DUBA DOP
BA DU BOP, BA DU DOP
BA DU BOP, BA DU DOP
BA DU, YEAH
SAID OH YEAH
IN AN MMMBOP THEY'RE GONE
Anyway, Hanson will also release Middle Of Everywhere: The Greatest Hits this year, a comprehensive, 25th-anniversary compendium that they might as well bury you with.

Tour dates are below for shows that you won't actually go to because they require staying up past 10 p.m. and you'd just spend a third of it in the bathroom, so why bother.
6/1 Cologne, Germany - Gloria
6/2 Amsterdam, Netherlands – Paradiso
6/3 Hamburg, Germany - Mojo
6/5 Paris, France - La Cigale
6/7 Milan, Italy – Fabrique
6/9 Antwerp, Belgium - Trix
6/10 London, England – Shepherd's Bush Empire
9/12 Dallas, TX - House of Blues
9/13 Austin, TX – Emo's East
9/15 New Orleans, LA - Joy Theater
9/16 Nashville, TN - Wildhorse Saloon
9/17 Birmingham, AL - Iron City
9/19 St. Petersburg, FL - Jannus Live
9/20 Atlanta, GA - Buckhead Theatre
9/22 Raleigh, NC - The Ritz
9/23 Norfolk, VA - Norva
9/24 Silver Spring, MD - The Fillmore
9/26 Cleveland, OH - House Of Blues
9/27 Pittsburgh, PA - Carnegie Music Hall of Homestead
9/28 Philadelphia, PA - The Fillmore
9/30 New York, NY - Playstation Theater
10/1 Boston, MA - House Of Blues
10/3 Montreal, QC CANADA - Corona
10/4 Toronto, ON CANADA - Danford Music Hall
10/6 Detroit, MI - St. Andrews
10/7 Chicago, IL - House of Blues
10/8 Grand Rapids, MI - 20 Monroe Live
10/10 Minneapolis, MN - First Avenue
10/11 St. Louis, MO - The Pageant
10/12 Lawrence, KS - Granada Theatre
10/14 Denver, CO - Summit Music Hall
10/15 Salt Lake City, UT - Depot
10/17 Seattle, WA - The Neptune
10/18 Vancouver, BC - Vogue Theatre
10/19 Portland, OR - Aladdin Theatre
10/21 Anaheim, CA - House Of Blues
10/22 Los Angeles, CA - The Mayan
10/24 San Diego, CA - House Of Blues
10/25 Las Vegas, NV - House Of Blues
10/27 Houston, TX - House Of Blues
Submit your Newswire tips here.