Japandroids have announced an extensive North American tour, kicking off Nov. 4 at Fun Fun Fun Fest in Austin, Texas. The band also released its first video ever today, for the track "The House That Heaven Built" off the band's excellent Celebration Rock. In the clip—which appears to have been shot on tour—the band plays live, drinks beers in its van, cooks out, loads gear, gets shirtless, and shoots guns.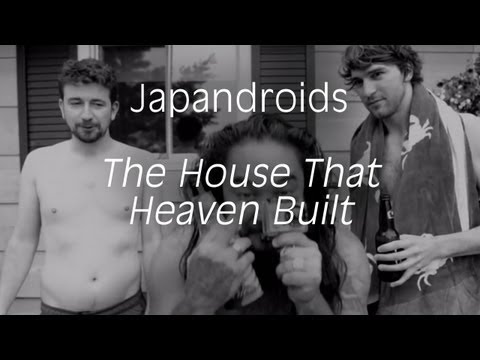 Source
Japandroids 2012 tour dates:
Aug. 14—Paredes De Coura—Ponte Do Lima, Portugal
Aug. 16—Workman's Club—Dublin, Ireland
Aug. 17—Mandela Hall—Belfast, Ireland
Aug. 18—Beacons Festival—Skipton, England
Aug. 19—Summer Sundae Festival—Leicester, England
Aug. 22—Gamli Gaukurinn—Reykjavik, Iceland
Aug. 24—Bootboohook Festival—Hannover, Germany
Aug. 25—Obswiesenfestival—Dornstadt, Germany
Aug. 27—Zoom—Frankfurt, Germany
Aug. 28—Beatpol—Dresden, Germany
Aug. 29—Magnet—Berlin, Germany
Aug. 31—Fabrika—Poznan, Poland
Sept. 1—Hydrozagadka—Warsaw, Poland
Sept. 3—Akvarium—Budapest, Hungary
Sept. 4—Chelsea—Vienna, Austria
Sept. 6—Kino Siska—Ljubljana, Slovenia
Sept. 7—Postgarage—Graz, Austria
Sept. 8—NKC Park—Zagreb, Croatia
Sept.10—Lucerna Music Bar—Prague, Czech Republic
Sept. 11—Feierwerk—Munich, Germany
Sept. 12—Treibhaus Luzern—Lucerne, Switzerland
Sept. 14—La Chocolaterie—Brussels, Belgium
Sept. 15—Leffingeleuren Festival—Leffinge, Belgium
Sept. 16—Incubate Festival—Tilburg, Netherlands
Sept. 18—Paradiso—Amsterdam, Netherlands
Sept. 19—Rotown—Rotterdam, Netherlands
Sept. 21—Reeperbahn Festival—Hamburg, Germany
Sept. 22—Gleis 22—Munster, Germany
Sept. 23—Luxor—Cologne, Germany
Sept. 25—Pumpehuset—Copenhagen, Denmark
Sept. 26—Voxhall—Aarhus, Denmark
Sept. 28—Pustervik—Gothenburg, Sweden
Sept. 29—Strand—Stockholm, Sweden
Sept. 30—John Dee—Oslo, Norway
Oct. 12—El Sol—Madrid, Spain
Oct. 13—Sala Apolo—Barcelona, Spain
Oct. 15—Salzhaus—Winterthur, Switzerland
Oct. 16—Grabenhalle—St. Gallen, Switzerland
Oct. 18—Lanificio 159—Rome, Italy
Oct. 19—Covo—Bologna, Italy
Oct. 20—Loop—Padova, Italy
Oct. 24—AN Club—Athens, Greece
Oct. 26—Heaven—London, England
Oct. 27—Sound Control—Manchester, England
Oct. 29—The Harley—Sheffield, England
Oct. 30—Hare & Hounds—Birmingham, England
Nov. 1—Pitchfork Music Festival—Paris, France
Nov. 4—Fun Fun Fun Fest—Austin, Texas
Nov. 5—Trees—Dallas, Texas*
Nov. 7—Martini Ranch—Scottsdale, Arizona*
Nov. 8—Fonda—Los Angeles, California*
Nov. 10—Porters Pub—San Diego, California*
Nov. 12—Fillmore—San Francisco, California*
Nov. 13—Wonder Ballroom—Portland, Oregon*
Nov. 15—Neumos—Seattle, Washington*
Nov. 17—Urban Lounge—Salt Lake City, Utah
Nov. 18—Bluebird—Denver, Colorado
Nov. 20—Firebird—St. Louis, Missouri
Nov. 21—Exit/In—Nashville, Tennessee
Nov. 23—Bottletree—Birmingham, Alabama
Nov. 24—Hi/Tone—Memphis, Tennessee
Nov. 25—One Eyed Jacks—New Orleans, Louisiana
Nov. 27—The Social—Orlando, Florida
Nov. 28—Crowbar—Tampa, Florida
Nov. 29—High Dive—Gainesville, Florida
Dec. 1—The Earl—Atlanta, Georgia
Dec. 2—Grey Eagle Tavern—Asheville, North Carolina
Dec. 4—Webster Hall—New York, New York
Dec. 7—Black Cat—Washington, DC
Dec. 8—Union Transfer—Philadelphia, Pennsylvania
Dec. 9—Paradise—Boston, Massachusetts
Dec. 10—Cabaret Mile End—Montreal, Quebec
Dec. 11—Phoenix—Toronto, Ontario
Dec. 13—Metro—Chicago, Illinois
Dec. 14-15—Triple Rock—Minneapolis, Minnesota
Dec. 17—Pyramid—Winnipeg, Manitoba
Dec. 18—Louis Pub—Saskatoon, Saskatchewan
Dec. 19—Starlite—Edmonton, Alberta
Dec. 20—Republik—Calgary, Alberta
Dec. 22—Rickshaw—Vancouver, British Columbia
* with Bleached
Submit your Newswire tips here.