Not a lot of bands record songs about how stupid Nazis are these days, let alone make music videos that really hammer home that point. A lot of bands aren't OFF!, though. The Keith Morris-fronted punk act's latest single, "Red White And Black," is about the idiocy inherent in the skinhead movement. Thankfully—and because they're not all business—the group lightened up the message a bit with its new video, which stars The Kids In The Hall's Dave Foley as an insecure yet bombastic white power group leader who, when boosted by his henchman Brian Posehn, aims to rile up a group of his followers, including a very gleeful-looking David Yow. Fortunately for humanity, OFF! isn't going to let them off without a severe beating, so—with the help of a local biker gang—it storms in to kick some Nazi ass and take some Nazi names.
OFF!'s latest record, Wasted Years, is available now via iTunes. The band has a number of tour dates scheduled for the near future, all of which are listed below.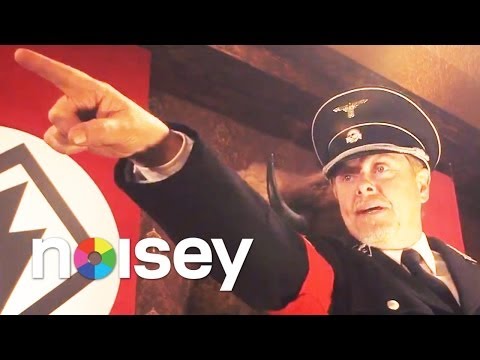 Source
OFF! tour 2014

April 15—Neurolux—Boise, Idaho
April 16—The Loading Dock—Salt Lake City, Utah
April 18—Black Sheep—Colorado Springs, Colorado
April 19—Marquis Theater—Denver, Colorado
April 21—Club Congress—Tucson, Arizona
April 22—Crescent Ballroom—Phoenix, Arizona
April 23—The Roxy—Los Angeles, California
May 7—Triple Rock—Minneapolis, Minnesota
May 8—Bottom Lounge—Chicago, Illinois
May 9—Small's Bar—Detroit, Michigan
May 10—Lee's Palace—Toronto, Ontario
May 12—Asbury Lanes—Asbury Park, New Jersey
May 15—Ottobar—Baltimore, Maryland
May 16—First Unitarian Church—Philadelphia, Pennsylvania
May 17—Bowery Ballroom—New York, New York
May 18—Middle East—Boston, Massachusetts
May 20—Exit/In—Nashville, Tennessee
May 22—Fitzgerald's—Houston, Texas
May 23—Club Dada—Dallas, Texas
May 24—Launchpad—Albuquerque, New Mexico
May 26—Punk Rock Bowling—Las Vegas, Nevada
Oct. 2—The Exchange—Bristol, United Kingdom
Oct. 3—Oslo—London, United Kingdom
Oct. 4—Queens Social Club—Sheffield, United Kingdom
Oct. 5—King Tuts—Glasglow, United Kingdom
Oct. 7—Belgrave Music Hall—Leeds, United Kingdom
Oct. 8—The Haunt—Brighton, United Kingdom
Oct. 10—Nouveau Casino—Paris, France
Oct. 11—AB Club—Brussels, Belgium
Oct. 12—Small Hall—Tilburg, Holland
Oct. 14—Logo—Hamburg, Germany
Oct. 15—SO36—Berlin, Germany
Oct. 17—Conne Island—Leipzig, Germany
Oct. 18—007—Prague, Czech Republic
Oct. 19—A38—Budapest, Hungary
Oct. 21—Strom—Munich, Germany
Oct. 22—Komplex Klub—Zurich, Switzerland
Oct. 23—Gebaude 9—Cologne, Germany
Oct. 25—Debaser Strand—Stockholm, Sweden
Submit your Newswire tips here.