Some 35 years after its formation, punk band D.O.A. is calling it quits. The Canadian group has released 14 studio albums over the course of its career—including 1984's excellent Bloodied But Unbowed—played benefits for countless causes, and influenced everyone from Rancid to The Offspring. The group will be playing a few last tour dates in California and Alberta, Canada before disbanding. Frontman Joe "Joey Shithead" Keithley will go on to pursue a career in politics: He's currently seeking a New Democratic Party nomination out of Coquitlam, British Columbia.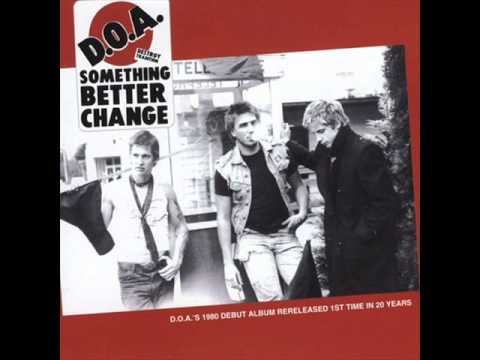 Source
D.O.A. final tour dates:
Jan. 18-19—The Rickshaw—Vancouver, British Columbia
Jan. 31—Phoenix Theatre—Petaluma, California
Feb. 1—The Observatory—Santa Ana, California
Feb. 2—Brick By Brick—San Diego, California
Feb. 3—Weber's—Reseda, California
Feb. 20—Studio Nightclub—Lethbridge, Alberta
Feb. 21—The Vat—Red Deer, Alberta
Feb. 22—Pawn Shop—Edmonton, Alberta
Feb. 23—The Republic—Calgary, Alberta
Feb. 24—Wild Bill's—Banff, Alberta
Submit your Newswire tips here.