It's been nine years since Nevada's 7 Seconds released new music and, though the group has still played shows in the interim, frontman Kevin Seconds has spent the bulk of that time working on softer solo material. When 7 Seconds reconvened the band put together Leave A Light On, its first album for Rise Records (due out May 27.) The album's title track doesn't pick up where 2005's Take It On, Take It Back, Take It Over! left off, instead working to incorporate some of the outright pop sensibilities of the band's experimental albums, like the underrated Soulforce Revolution. "Leave A Light On" (which The A.V. Club is premiering here) is unabashed pop-punk, but even as 7 Seconds moves from youth crew and embraces poppier endeavors it never loses any of the energy that the group first became known for.
The band will be on the road for a good portion of the summer. Dates are below.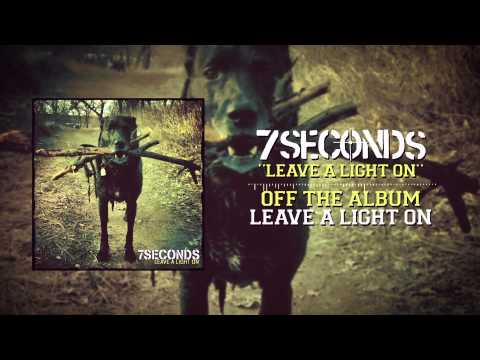 Source
7 Seconds tour 2014
May 17–Pouzza Fest–Montreal, Quebec, Canada
May 18–Black N' Blue Bowl–Brooklyn, New York
May 24–Rain Fest–Seattle, Washington
June 13–Cesar Chavez Park–Sacramento, California
June 14–The Roxy–West Hollywood, California
June 28–Oakland Metro Operahouse–Oakland, California
July 23–Club Sound–Salt Lake City, Utah
July 24–Marquis Theater–Denver, Colorado
July 25–Czar Bar–Kansas City, Missouri
July 26–Fubar–St. Louis, Missouri
July 27–Cobra Lounge–Chicago, Illinois
July 28–Triple Rock Social Club–Minneapolis, Minnesota
July 30–Grog Shop–Cleveland, Ohio
Aug. 01–Voltage Lounge–Philadelphia, Pennsylvania
Aug. 02–Brighton Music Hall–Boston, Massachusetts
Aug. 04–Asbury Lanes–Asbury Park, New Jersey
Aug. 05–Ottobar–Baltimore, Maryland
Aug. 07–The Masquerade–Atlanta, Georgia
Aug. 08–Vinyl Music Hall–Pensacola, Florida
Aug. 09–Walters Downtown–Houston, Texas
Aug. 10–Three Links–Dallas, Texas
Aug. 13–Pub Rock–Scottsdale, Arizona
Aug. 14–The Glass House– Pomona, California
Submit your Newswire tips here.