Colorado punk act Elway is dropping its sophomore record, Leavetaking, later this month, but the group's new single, "Ariel," is available to stream now on The A.V. Club. The band—which has been in hot water with their namesake quarterback for nabbing his moniker—has been compared to acts like The Lawrence Arms and The Menzingers, and tour fairly extensively this summer. A full slate of dates is below.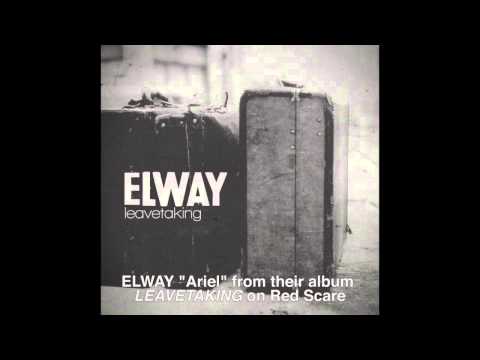 Source
Elway tour 2013
July 8—Gman Tavern—Chicago, Illinois
July 10—Triple Rock Social Club—Minneapolis, Minnesota
July 11—Bier Stube—Moline, Illinois
July 12—Frequency—Madison, Wisconsin
July 13—Beat Kitchen—Chicago, Illinois
July 14—Small's—Detroit, Michigan
July 15—The Grog Shop—Cleveland, Ohio
July 16—The Champ—Lemoyne, Pennsylvania
July 17—Sidebar—Baltimore, Maryland
July 18—Middle East—Boston, Massachusetts
July 19—Santo's Party House—New York, New York
July 20—Suburbia—Brooklyn, New York
July 21—The Fire—Philadelphia, Pennsylvania
July 22—Motorco—Durham, North Carolina
July 23—Strange Matter—Richmond, Virginia
July 24—222 Ormsby—Pittsburgh, Pennsylvania
July 25—Southgate House—Cincinnati, Ohio
July 26—Firebird—St. Louis, Missouri
July 27—Sokol Underground—Omaha, Nebraska
July 28—The Marquis—Denver, Colorado
July 29—Surfside 7—Ft. Collins, Colorado
July 30—Shred Shed—Salt Lake City, Utah
July 31—Sammy's—Boise, Idaho
Aug. 1—El Corazon—Seattle, Washington
Aug. 2—Chinese Gardens—Longview, Washington
Aug. 2—Backspace—Portland, Oregon
Aug. 3—924 Gilman Street—San Francisco, California
Aug. 4—Luigi's—Sacramento, California
Aug. 5—Hero's—Modesto, California
Aug. 6—Blue Lagoon—Santa Cruz, California
Aug. 7—Bottom Of The Hill—San Francisco, California
Aug. 8—Zoey's Café—Ventura, California
Aug. 9—Five Star Bar—Los Angeles, California
Aug. 10—VLHS—Pomona, California
Aug. 11—The Void—San Diego, California
Aug. 12—Yucca Tap Room—Tempe, Arizona
Aug. 13—Gasworks—Albuquerque, New Mexico
Aug. 14—The Conservatory—Oklahoma City, Oklahoma
Aug. 15—Record Bar—Kansas City, Missouri
Aug. 16—Firehouse Pizza—Normal, Illinois
Aug. 17—Cactus Club—Milwaukee, Wisconsin
Submit your Great Job, Internet tips here.