Every day, Watch This offers staff recommendations inspired by a new movie coming out that week. This week: Hansel & Gretel: Witch Hunters has us thinking about fractured fairy tales.
The Company Of Wolves (1984) 
In films like Interview With A Vampire, In Dreams, and the yet-to-be-released Byzantium, director Neil Jordan has shown a keen interest in gothic atmosphere and classic myths reimagined. But it all started with 1984's The Company Of Wolves, a lush, ambitious, strikingly outsized play on Charles Perrault's "Little Red Riding Hood" that makes explicit the dangers of a budding young woman straying from the path. A dream within a dream—and with dreams within it, too—the film takes place in the mind of a ruby-lipped adolescent (Sarah Patterson) who has a nightmare about her older sister getting eaten by wolves. While her parents mourn, Patterson goes to live with her sweet, protective granny (Angela Lansbury, in a casting coup), but despite the old woman's warnings, the girl's curiosity gets the better of her and leads her to an encounter with the Big Bad Wolf. 
The Company Of Wolves has a pop-up book artificiality to it that recalls the studio-bound magic of Alexander Korda. Little Red Riding Hood wanders through a storybook land that's overwhelmingly large, making the threat to her more imposing. Add to that the gory, stop-motion creature effects—reminiscent of groundbreaking contemporaries like The Thing and An American Werewolf In London—and Patterson's rite-of-passage into adulthood takes on real menace while inspiring some wonder, too. Jordan's mode of telling stories within stories gives the film a hypnotic allure that would carry over into later films like The Crying Game or The End Of The Affair, where the atmosphere draws the characters down dark paths of their own. The moral of "Little Red Riding Hood" could apply to much of Jordan's work: "Now, as then, 'tis simple truth / Sweetest tongue has sharpest tooth!" 
Availability: There's a crummy, non-anamorphic widescreen DVD and a presumably gorgeous Blu-ray available. Choose wisely.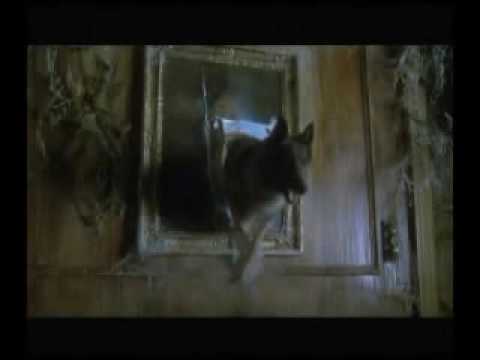 Source