While Cate Blanchett and Matthew McConaughey took home the big awards this Sunday, the real Oscar winner might have been the pizza delivery guy who got the chance to feed some of Hollywood's biggest stars. While many speculated he was just an actor hired for the role of "befuddled delivery man," it turns out Edgar Martirosyan is just a really lucky guy. Ellen DeGeneres invited him on her talk show on Monday to share his story, where he relayed how he thought he was delivering pizza to the Oscars' writers and had no idea he was going to be a part of the broadcast. That is, until Ellen asked him to follow her, and he unexpectedly found himself onstage.
Source
It's a Cinderella story of Lupita Nyong'o proportions: The Russian-born Martirosyan started as a delivery guy at Big Mama's And Papa's Pizzeria, then worked his way up to co-own the franchise with his brother. (He only made Sunday's delivery personally because the store was swamped with orders.) Not only did the shop get a huge boost after the appearance, Ellen also handed over the tip money she collected from the likes of Harvey Weinstein, Brad Pitt, and Chiwetel Ejiofor. Along with some of Ellen's own contributions, Edgar got a $1,000 tip for those three pizzas he delivered onstage (and around 20 that were delivered backstage as well). His interview is all kinds of adorable—especially his reveal that Julia Roberts is one of his all-time favorite actresses.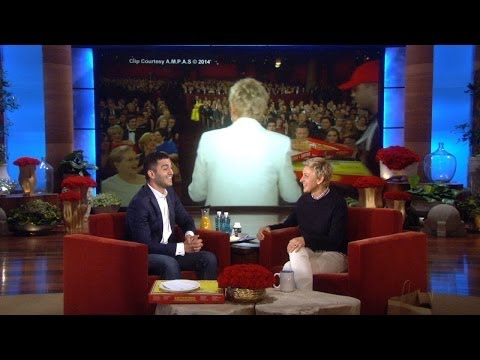 Source
Submit your Newswire tips here.