Parquet Courts have announced a new record due out this June. Sunbathing Animal is the band's third full-length and hits stores June 3. The band's previous LP, Light Up Gold, wowed critics and audiences alike when it was reissued by What's Your Rupture? last year, with ripping tracks like "Borrowed Time" still popping up on new episodes of TV shows even now. Sunbathing Animal's first single, the title track, is below.
The band spent much of last year touring, and has a number of North American and European tour dates on the immediate horizon. Those are listed below, as is the tracklisting for Sunbathing Animal.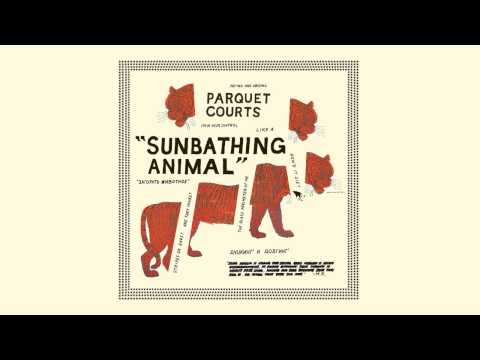 Source
Sunbathing Animal tracklisting
1. Bodies
2. Black and White
3. Dear Ramona
4. What Color Is Blood
5. Vienna II
6. Always Back In Town
7. She's Rollin
8. Sunbathing Animal
9. Up All Night
10. Instant Disassembly
11. Duckin And Dodgin
12. Raw Milk
13. Into The Garden
Parquet Courts tour 2014
May 22—Commonwealth Bar—Calgary, Alberta
May 23—Doug Fir—Portland, Oregon
May 24—Biltmore Cabaret—Vancouver, British Columbia
May 25—Sasquatch Music Festival—George, Washington
May 27—Independent—San Francisco, California
May 28—Roxy—Los Angeles, California
May 29—Red 7—Austin, Texas
June 2—Fitzgerald's—Houston, Texas
June 3—Club Dada—Dallas, Texas
June 4—The Hi-Tone—Memphis, Tennessee
June 6—Double Happiness—Columbus, Ohio
June 7—PJ's Lager House—Detroit, Michigan
June 8—Horseshoe Tavern—Toronto, Ontario
June 9—Il Motore—Montreal, Quebec
June 10—TT The Bears—Boston, Massachusetts
June 11—Sugarhill Supper Club—Brooklyn, New York
June 21—SWG3—Glasgow, United Kingdom
June 22—Kazimier—Liverpool, United Kingdom
June 23—Birmingham Institute—Birmingham, United Kingdom
June 25—ULU—London, United Kingdom
June 26—Oxford Academy 2—Oxford, United Kingdom
June 29—Garorock—Marmande, France
July 6—Rock Werchter—Rotselaar, Belgium
July 7—Vera Project—Groningen, Netherlands
July 8—Le Divan Du Monde—Paris, France
July 9—La Sirene Club—La Rochelle, France
July 10—Bilbao BBK—Bilbao, Spain
July 11—Alive Festival—Lisbon, Portugal
July 12—Phono Pop—Russelheim, Germany
July 16—Cassiopaia—Berlin, Germany
July 17—Melt—Grafenhainichen, Germany
July 18—Longitude Festival—Dublin, Ireland
July 20—Latitude Festival—Suffolk, United Kingdom
July 25—Naeba Ski Resort—Niigata, Japan
Aug. 2—Lollapalooza—Chicago, Illinois
Aug. 3—Pickathon—Happy Valley, Oregon
Submit your Newswire tips here.