Director Sidney Lumet died today of lymphoma at 86. With a career stretching precisely 50 years, bookended by his seminal 1957 drama 12 Angry Men and the dark heist drama Before The Devil Knows You're Dead in 2007, Lumet proved a vital and serious filmmaker, and an endlessly adaptable one, too, capable of adjusting his style as the times dictated. From the beginning, the keys to his longevity were an unfussy realism that served the characters and story, and a legendary facility for getting great performances from his actors. (His 1996 book Making Movies breaks down his methods so thoroughly that's it's become an enduring tutorial for aspiring filmmakers.)
In many ways, Lumet's debut feature, 12 Angry Men, remains his signature work—intense, brilliantly acted, morally serious, and more visually dynamic than its single-room setting might suggest. Based on Reginald Rose's play, it's also a model of how the jury system works in its best interest, when people of varying backgrounds and prejudices can work together to achieve justice. (And to speak personally for a moment, watching 12 Angry Men with my father was a formative experience for me as a cinephile, owed largely to its accessibility to the broad audience, children included.)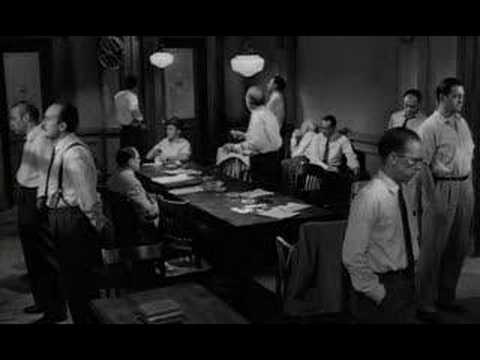 Source
From there, Lumet's career touched on a broad range of genres, including theatrical adaptations like Tennessee Williams' The Fugitive Kind, Peter Shaffer's Equus, Ira Levin's Deathtrap, and his spectacular version of Eugene O'Neill's Long Day's Journey Into Night (with revelatory work by Katherine Hepburn, as no one had quite seen her before); gritty NYC thrillers like Serpico, Prince Of The City, and Q&A; topical films like Fail-Safe, The Pawnbroker, Dog Day Afternoon, The Morning After, and Running On Empty; courtroom dramas like The Verdict, Night Falls On Manhattan, and Find Me Guilty; and odds and ends like the musical The Wiz and the enduring media satire Network, which won Oscars for three of its actors and Paddy Chayefsky's screenplay.
In all, a formidable filmography: 45 features, with 46 Oscar nominations (and six wins) among them, and a reputation for ushering in a more naturalistic style of acting that helped film evolve past its theatrical roots. Please share some of your favorite (and most underrated) Lumet films in the space below.
Submit your Newswire tips here.