Canadian actor Seth Rogen appeared before a U.S. Senate subcommittee yesterday to testify on behalf of Alzheimer's disease research. The Knocked Up and This Is The End actor used his star power to get about seven minutes before the Senate Appropriations Subcommittee on Labor, Health & Human Services, where he talked candidly about how the disease has affected his mother-in-law, his Hilarity For Charity organization that raises money for research, and how, relatively speaking, the U.S. is totally dropping the ball on scientific funding. Rogen joked with the senators about the legalization of marijuana, but, really, how could he not?
Lest Rogen be viewed as just another celebrity paying lip service to a cause, the actor also took to Twitter to blast the 16 senators who came to see him in person, but left before his actual testimony. Rogen tweeted that he wasn't sure "why only two senators were at the hearing," saying it was "very symbolic of how the Government views Alzheimer's." Rogen specifically called out Illinois Republican Senator Mark Kirk, who tweeted a photo with Rogen along with a request for his followers to "RT if you know someone affected by #Alzheimers," but also left before Rogen's speech. The chamber's emptiness isn't really evident in the C-SPAN feed below, but judging by the picture Rogen posted to his Twitter, the whole thing really was shamefully attended.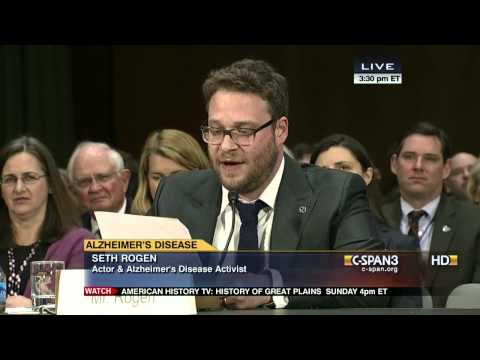 Source
Submit your Newswire tips here.