Slint's Spiderland, one of the best post-rock records of all time, is being reissued in a deluxe, remastered box set. The $150 collection hits stores April 15 and is available for pre-order now via the long-silent Touch And Go Records. Only 3,138 copies will be issued, and each comes packed with bonus material, including a 104-page book full of never-before-seen photos and lyrics, as well as a forward by Will Oldham. Other bonus material includes Breadcrumb Trail, a 90-minute DVD documentary about the making of Spiderland that's directed by Lance Bangs and a CD of 14 bonus songs. Those who pre-order the record before March 8 will also get a free T-shirt printed from the original silkscreen used to produce a run of Slint's one and only official T-shirt back in 1989. And those who pre-order through Touch And Go will also get their commemorative book signed by Slint members David Pajo, Todd Brashear, Brian McMahan, and Britt Walford.
A full track listing for the reissue is below.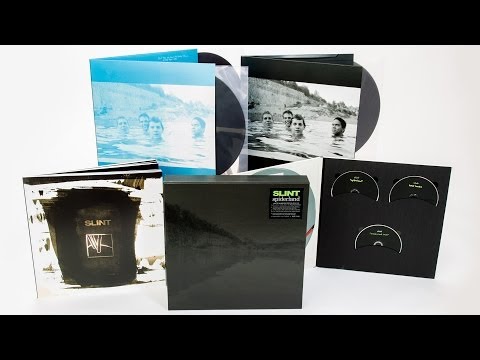 Source
SIDE A
breadcrumb trail (remastered)
nosferatu man (remastered)
don, aman (remastered)
SIDE B
washer (remastered)
for dinner… (remastered)
good morning, captain (remastered)
SIDE C
Nosferatu Man (basement practice)
Washer (basement practice)
Good Morning, Captain (demo)
SIDE D
Pam (rough mix, Spiderland outtake)
Glenn (Spiderland outtake)
Todd's Song (post-Spiderland song in progress)
SIDE E
Brian's Song (post-Spiderland demo)
Cortez The Killer (live Chicago 1989)
SIDE F
Washer (4 track vocal demo)
Nosferatu Man (4 track vocal demo)
Pam (4 track vocal demo)
Good Morning, Captain (Evanston riff tape)
Nosferatu Man (Evanston riff tape)
Pam (Evanston riff tape) 
Submit your Newswire tips here.