Hosted by Saturday Night Live writer and Five-Timers Club doorman Mike O'Brien, web series Seven Minutes In Heaven always delivers, especially during every episode's ending kiss. Whether it's O'Brien really giving it to someone like Jack McBrayer or trying not totally creep out Connie Britton, it's a charming way to end an already charming short.
The latest episode of the series has O'Brien trapped in clothes purgatory with Mad Men's Jon Hamm, owner of the world's most talked about penis. While the two don't get into anything too scandalous, Hamm does talk about whether Don Draper "takes care of it solo," finds himself under attack from a tickle spider, and really plants one on O'Brien, who emerges with whisker burn and mussed hair. It's a dream, really.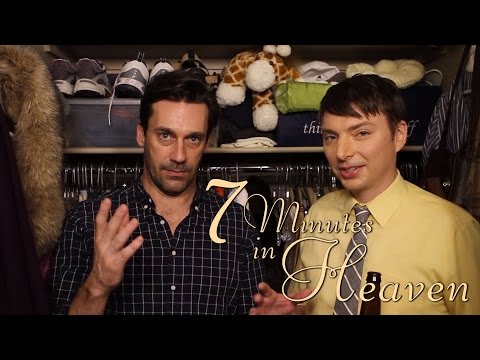 Source
Submit your Great Job, Internet tips here.