Tenacious D has announced the lineup for its second annual Festival Supreme, and it's pretty damn good. The D will play the Los Angeles based fest, of course, but they'll be joined by a veritable murderers' row of other comedians and comedy musical acts including Cheech & Chong, The State, Margaret Cho, Nick Kroll, and Metalocalypse's Dethklok. There will also be performances by Scott Aukerman and Comedy Bang! Bang!, Drunk History, Dr. Demento, and tens of other comedians.
The full lineup is below, with tickets on sale this Friday, May 30 for the Oct. 25 event.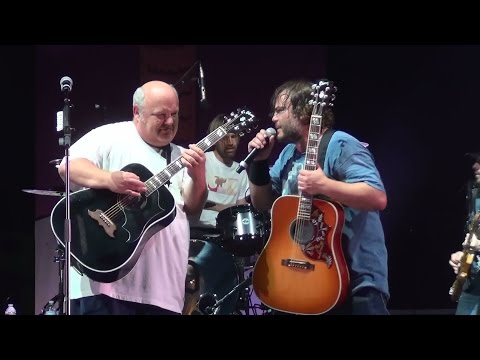 Source
Festival Supreme 2014

Tenacious D
Dethklok
Cheech & Chong
Workaholics
Margaret Cho
The State
Fred Armisen & Bill Hader
Nick Kroll
Peaches
Drunk History
Norm McDonald
Janeane Garofalo
Comedy Bang! Bang! starring Scott Aukerman
Maria Bamford
T.J. Miller
Kumail Nanjiani
The Eagles Of Death Metal
Jenny Slate
Dr. Demento
Doug Benson
Heidecker & Wood
Natasha Leggero
Bo Burnham
The Dan Band
Mary Lynn Rajskub
The Aquabats
DJ Lance Rock
Eric Andre
Bridget Everett
The Protomen
Ron Lynch
Jerrod Carmichael
Nick Thune
Arj Barker
The Tulsa Skull Swingers
Rob Zabrecky
The Upper Crust
Awkwafina
The Kyle Gass Band
The Haden Triplets
Submit your Newswire tips here.