On Monday's Late Show, Stephen Colbert made a meal of presidential son and current Daddy's least favorite Donald Trump Jr.'s bafflingly brazen treason-adjacent Russian collusion. (As reported by the New York Times, and then—again bafflingly—confirmed on Twitter by Trump Jr. himself.) Well, that was taped before even more, yes, baffling revelations on the subject dropped, both from a follow-up Times story further detailing the extent of Li'l Donnie's attempts to tag-team American democracy with the help of a hostile foreign power—and another signature Trump family Twitter dump. ("It's an all-you-can-prosecute buffet," exclaimed Colbert.) Therein, Trump Jr. showed everyone the comically blithe enthusiasm he brought to the scheme, from the email subject line on down. "We're only five words in and the only innocent word is 'and,'" said Colbert with barely restrained, grateful glee. For the second night in a row, the host's extended monologue grappled with the elaborate yet jaw-droppingly boneheaded details of a presidential email scandal that, unlike some others we could mention, seemingly isn't completely full of crap. (Having what he termed the "radioactive criminality" of what Trump's firstborn did to work with, Colbert clearly relished the opportunity to utter phrases like "flaming douchebag," for example.)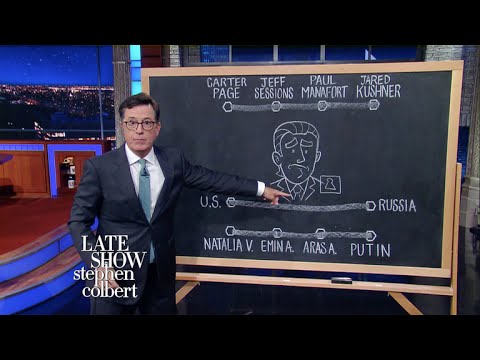 Luckily, Colbert had a new tool on hand to keep all the current scandal's ludicrous collection of characters straight, the elaborately engineered "Figure-It-Out-O-Tron." (Actually just a chalkboard with a sad caricature of Trump Jr. and some strategically spaced co-conspirator names.) On a night where his first guests, Morning Joe co-hosts Mika Brzezinski and Joe Scarborough openly hinted that the President of the United States is losing his marbles and affected horror that congressional Republicans haven't roundly denounced this open flaunting of Russian collusion, Colbert struck the more optimistic tone that there's only one place where Trump Jr.'s act of "Deep-Throating himself" can lead. All you have to do is connect those dots.
Submit your Newswire tips here.