Judging by the first leaked track "Make Some Noise," the Beastie Boys' Hot Sauce Committee Pt. 2 aims to pull a 180 on the group's recent diversion into pure funk instrumentals and get back to old-school rhyming and stealing. That return to the past takes on a more literal tone in Fight For Your Right Revisited, the Adam Yauch-directed short that recently premiered at Sundance, a 30-minute goof in which the Licensed To Ill-era Beasties (played by Danny McBride, Seth Rogen, and Elijah Wood) run into their future selves (played by Will Ferrell, John C. Reilly, and Jack Black) and square off in a dance contest, among other things.
Various other celebs pop up for cameos, including Steve Buscemi, Ted Danson, Stanley Tucci, Susan Sarandon, Rainn Wilson, and Will Arnett, certain obligatory winks-and-nods to pop culture are made—Arnett's "Come on!" and Ferrell's cowbell among them—and beer sprays everywhere in slow motion; in summation, it looks like everybody had a fun couple of days on the streets of New York. The full short debuts on the same day as the album, May 3, but you can check out the red-band trailer right now. (And yes, we know we're at least a day late on this, but we'd be remiss if we didn't provide a place to discuss it.)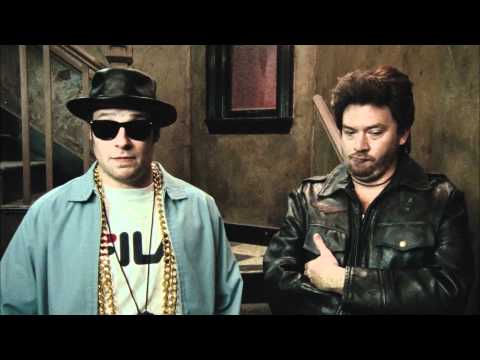 Source
Submit your Newswire tips here.