Flighty and given to unpredictable migration patterns, the Bill Murray is not easily spotted nor caged, which makes sightings in the wild all the more notable. But there is one surefire method to flush Bill Murray out of hiding, besides throwing a music festival or building a decoy Wes Anderson: Give him an award, and he'll most likely turn up—particularly if it's related to something he genuinely enjoys, such as baseball. That's how yesterday's South Atlantic League Baseball Hall Of Fame induction ceremony was transformed into a Bill Murray moment, when the actor showed up yesterday to join the annals of minor league baseball history. Murray has long served as the "Director of Fun" for Yankees farm team the Charleston RiverDogs—often turning up at games (as in the photo at left, gifted to us by regular reader Robert Gurganus) and acting all Bill Murray-like.
That same enthusiasm colored the sentimental acceptance speech you can watch below (if you didn't already catch it in Great Job, Internet! yesterday), with Murray testifying to his love of the game while also making jokes about his sartorial choices and some other self-deprecating stuff. " I don't know why I'm being inducted into the Hall of Fame today," Murray said. "But no one's ever asked me to be part of a Hall of Fame so I'm not going to say no." Dear Bill Murray: We are making a Bill Murray Hall Of Fame. Please come to our offices to be inducted at your earliest convenience.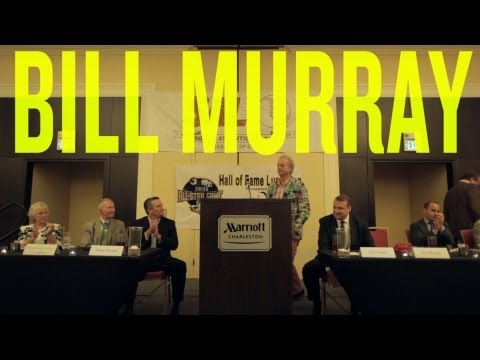 Source
For those who do not have the wherewithal to go around creating Halls of Fame all willy-nilly, this August offers another, easier way to capture Bill Murray: Pick up Bellykids' new Bill Murray coloring book, Thrill Murray, then scribble in famous Murray scenes with the same impish, "It just doesn't matter" disregard for expectation that has characterized his career. For example, here's a moment from Lost In Translation, shortly after Bill Murray unhinged his jaw and swallowed Scarlett Johansson.   [via Complex]
Submit your Newswire tips here.