Having spent three seasons on VH1 teaching the world how to love, reality star and intermittent rapper Flavor Flav is now intent on teaching the world how to eat through his soon-to-be-launched Flav's Fried Chicken franchise. The flagship restaurant in Clinton, Iowa will serve as the test market for what Flav optimistically promises will soon be "hundreds" of locations opening within the next year, with Clinton getting first honors because it is the hometown of Flav's business partner, Nick Cimino, brother to the owner of Las Vegas' Mama Cimino's, which enjoyed some success selling Flav's 99-cent wings. Flav is also confidently pitching "FFC" as a serious competitor to Kentucky Fried Chicken, which will be put to the test immediately considering there's one right next door.
Of course, for all its brand dominance, KFC doesn't have paintings of Flavor Flav all over its walls. But this isn't just another example of hip-hop entrepreneurship, like, say, the upcoming line of Le Flav liquors: Flav says he earned a culinary degree in 1978—which is something we're just now learning; did anyone know this?—and that he's even spent time as a head cook at several places, so he intends on being totally hands-on with his restaurant, beginning with frying up the first batch of fried chicken himself. As he promises in the below video, visitors to his restaurant will be able to catch him "seasoning up my chicken, flouring up my chicken, frying up my chicken, even serving my chicken." And what's more appetizing than seeing your dinner handled by the star of Flavor Of Love? Still, hygienic gambles may be worth the risk to get a taste of Flav's secret recipe, which involves seasoning the meat and not just the breading, with the result promising to "blow up your taste buds" louder than a bomb. [via Eater]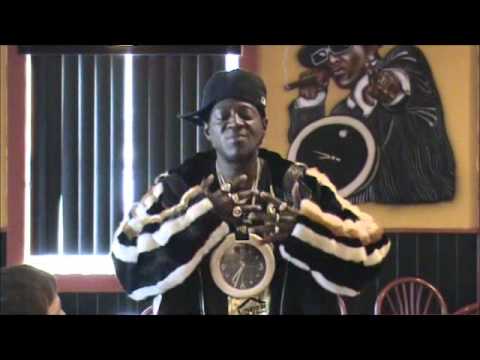 Source
Submit your Newswire tips here.