Deer Tick's new record, Negativity, is out Sept. 24, and its cover art really is quite neat. The band hired a plane to fly around Westerly, Rhode Island trailing a banner containing the title, and shot footage of the melee that ensued. A bunch of dogs are involved, and one of the new tracks off the record, "Big House," plays in the background. The footage is premiering exclusively today on The A.V. Club, and Negativity is available for pre-order here.
The band is touring this fall, and a full list of dates is below.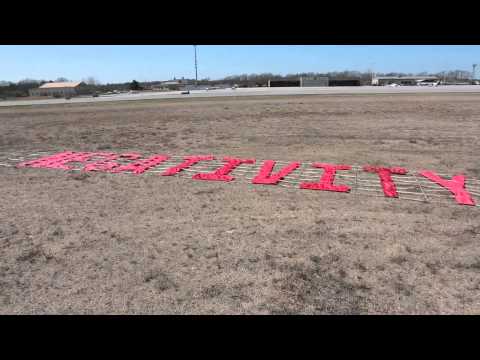 Source
Deer Tick tour 2013
Sept. 7—Boston Calling—Boston, Massachusetts
Sept. 14—Dudesmash II At The Met—Pawtucket, Rhode Island
Sept. 15—The John Boyle O'Reilly Club—Springfield, Massachusetts
Sept. 17—Strand Capitol Performing Arts Center—York, Pennsylvania
Sept. 18—Ottobar—Baltimore, Maryland
Sept. 20—123 Pleasant Street—Morgantown, West Virginia
Sept. 21—Bristol Rhythm And Roots Reunion—Bristol, Tennessee
Sept. 26—UCLA Bruin Plaza—Los Angeles, California
Oct. 10—Lee's Palace—Toronto, Ontario
Oct. 11—Majestic Theatre—Detroit, Michigan
Oct. 12—Otto's—Dekalb, Illinois
Oct. 13—Majestic Theatre—Madison, Wisconsin
Oct. 15—Fine Line Music Café—Minneapolis, Minnesota
Oct. 16—West End Cultural Center—Winnipeg, Manitoba
Oct. 18—Starlite Room—Edmonton, Alberta
Oct. 19—Republik—Calgary, Alberta
Oct. 21—Rickshaw Theatre—Vancouver, British Columbia
Oct. 22—Neumos—Seattle, Washington
Oct. 23—Wonder Ballroom—Portland, Oregon
Oct. 25—Slim's—San Francisco, California
Oct. 26—Troubadour—Los Angeles, California
Oct. 27—Belly Up Tavern—Solana Beach, California
Oct. 29—Urban Lounge—Salt Lake City, Utah
Oct. 30—Bluebird Theater—Denver, Colorad
Nov. 1—Slowdown—Omaha, Nebraska
Nov. 2—The Bottleneck—Lawrence, Kansas
Nov. 3—Firebird—St. Louis, Missouri
Nov. 4—Headliners Music Hall—Louisville, Kentucky
Nov. 6—Union Transfer—Philadelphia, Pennsylvania
Nov. 7—Webster Hall—New York, New York 
Submit your Great Job, Internet tips here.