On last night's Jimmy Kimmel Live, Drake took the rare opportunity to hear people lob insults at Drake—only this time, he openly solicited people to say them to his face. Drake donned glasses and a fake beard and took the streets as part of Kimmel's regular "Lie Witness News" segments, which routinely expose how people desperate to appear on TV will pretend to have an opinion on any kind of bullshit, a truism that keeps our entire pundit industry humming. In this case, the bullshit was Drake's hosting gig at the ESPYs—a gig he hasn't actually performed yet, but for which the man on the street has already derided Drake as an "idiot" and a "chickenhead." To his face.
Other things Drake found out about himself, probably not for the first time: People think he's an actor, not a rapper; that he's the type to cry at an awards show, air his sex tape at Coachella, and get drunk and piss in a BabyGap; and that he sucks. Still, Drake is also fully aware that, in his own words, "I am a total idiot to be standing here, on this street, in this beard and this wig, when I know good and well that I'm Drake and I could be at home with multiple women bathing in champagne." Sure, just keep telling yourself that, Drake. Seriously, keep telling yourself that, because goddamn it.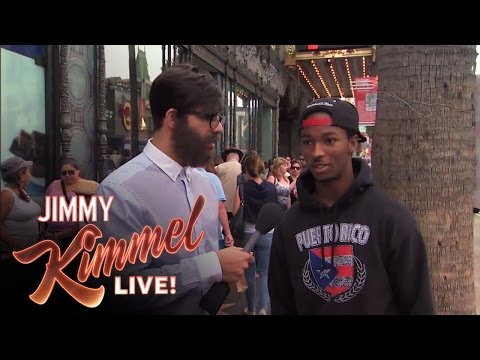 Source
Submit your Newswire tips here.