Canadian singer-songwriter Hayden—real name Paul Hayden Desser—is a bit of a mystery man. He's been listed as dead twice on Wikipedia, got a massive contract from Geffen records in the mid '90s to do pretty much whatever he wanted, and has done little press or touring throughout his whole career. Add all that mystery to his tendency to write charming, catchy songs, and he's pretty much a modern music fan's dream.
His latest record, Us Alone, is his first on his new label, Arts & Crafts, and his first in four years due to his obligations as a new dad. That fatherhood theme is reflected in the new video for "Rainy Saturday." While he'd rather spend a quiet weekend day just fooling around and playing his guitar, instead Hayden is forced to take his screaming kid to the car wash, a scene that plays out in both annoying and kind of beautiful fashion. Check out the premiere of the new clip and a list of Hayden's pretty rare tour dates below.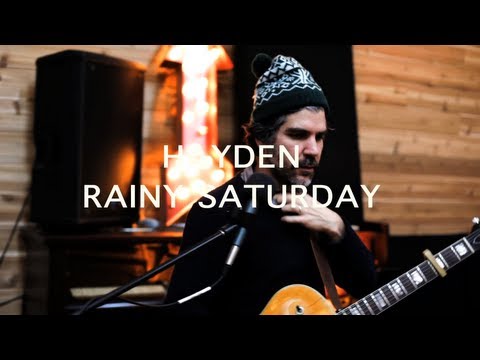 Source
Feb. 6—The Grad Club—Kingston, Ontario
Feb. 7—The River Run Centre Cooperators Hall—Guelph, Ontario
Feb. 8—The Dundas Valley Montessori School—Hamilton, Ontario
Feb. 9—Avening Community Theatre—Avening, Ontario
Feb. 13—Mercury Lounge—New York, New York
Feb. 20—The Dakota Tavern—Toronto, Ontario
Feb. 21—The Cameron House—Toronto, Ontario
Feb. 22—The Rivoli—Toronto, Ontario
March 7—Blacksheep Inn—Wakefield, Quebec
March 8—La Sala Rossa—Montreal, Quebec
March 13—SXSW—Austin, Texas
March 17—Hi Dive—Denver, Colorado
March 20—Tractor Tavern—Seattle, Washington
March 21—Doug Fir Lounge—Portland, Oregon
March 23—The Rio Theatre—Vancouver, British Columbia
March 24—The Royal On Baker—Nelson, British Columbia
March 26—The Royal Alberta Museum Theatre—Edmonton, Alberta
March 27—Festival Hall—Calgary, Alberta
March 28—The Bassment—Saskatoon, Saskatchewan
March 30—West End Cultural Centre—Winnipeg, Manitoba
March 31—Triple Rock Social Club—Minneapolis, Minnesota
April 3—Schubas—Chicago, Illinois
June 8—Arts & Crafts 10th Anniversary Field Trip—Toronto, Ontario
Submit your Great Job, Internet tips here.