As his fans know, comedian and marijuana enthusiast (marijuenthusiast?) Doug Benson has a weekly show wherein he smokes pot with his guests while riffing and talking about their own histories and preferences with weed. Getting Doug With High finds the Doug Loves Movies/Benson Interruption host speaking with his comedian friends, including Anthony Jeselnick, Jenny Slate, and Ron Funches, along with other humorous folks like the cast of Workaholics, Aubrey Plaza, and, clearly the chillest hobbit of the bunch, Dominic Monaghan. The YouTube show ostensibly covers various strains of weed, news stories about legalization, and takes questions from Twitter—but mostly it's an occasion to make jokes, freestyle rap, and prompt viewers to ask "Wait. How is this legal?"

Getting Doug With High also ventures out to live shows where a larger panel of guests all partake in a cypher with Benson in front of a large audience. What sounds like a paranoid nightmare for most ends up being a delightful evening of riffing and joking amongst friends. One such live episode (embedded below), features Sarah Silverman, Howard Kremer, Dan Harmon, Ngaio Bealum, and James Adomian sharing the stage. It's a long episode at an hour and a half, but it is worth it to watch Harmon freak out occasionally about breathing too much, Adomian freestyle rap as Jesse Ventura, and the whole gang make multiple attempts at building a pyramid at Silverman's insistence.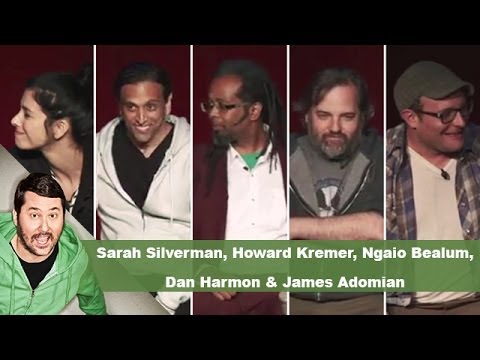 Submit your Great Job, Internet tips here.