With Dinosaur Jr.'s latest album, I Bet On Sky, available for pre-order, it's time for promotion to kick into high gear. Luckily, the band's doing it in style and have recruited Portlandia's feminist bookstore owner Candace (a.k.a. Fred Armisen) to interview J. Mascis about the record. Some amount of hilarity ensues.
I Bet On Sky follows 2005's Beyond—the reunion record that followed that nasty break-up—and 2009's Farm, and marks the band's second venture with label Jagjaguwar. Lou Barlow had hinted at a possible album back in January on Twitter, with a hopeful release date for spring of 2012. It took a little longer than predicted, but it's now set for a Sept. 18 release. The pre-order comes with a special code to access an early digital release of the album, available to the anxious on September 4.
The band will continue to stay busy with a slew of upcoming tour dates, listed below.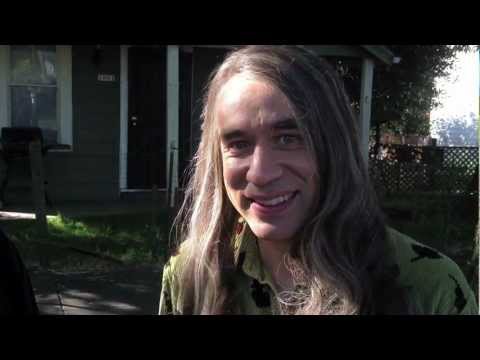 Source
Aug. 25—LouFest 2012—St. Louis, Missouri
Sept. 2—FYF Fest—Los Angeles, California
Sept. 6—Belly Up Tavern—Solana Beach, California
Sept. 8—Roseland Theater—Portland, Oregon (also with J Mascis solo and Sebadoh)
Sept. 24-26—Lee's Palace—Toronto, Ontario
Sept. 27—St. Andrew's Hall—Detroit, Michigan
Sept. 28—MidPoint Music Festival—Cincinnati, Ohio
Sept. 29—Pygmalion Festival—Champaign, Illinois
Oct. 1—Mercy Lounge—Nashville, Tennessee
Oct. 2—Variety Playhouse—Atlanta, Georgia
Oct. 3—Tipitina's—New Orleans, Louisiana
Oct. 4—Mohawk—Austin, Texas
Oct. 5—Fitzgerald's—Houston, Texas
Oct. 6—The Prophet Bar—Dallas, Texas
Oct. 8—Orpheum Theater—Flagstaff, Arizona
Oct. 9—The Observatory—Santa Ana, California
Oct. 10—The Fillmore—San Francisco, California
Oct. 11—WOW Hall—Eugene, Oregon
Oct. 12—Neptune Theatre—Seattle, Washington
Oct. 14—Urban Lounge—Salt Lake City, Utah
Oct. 15—Bluebird Theater—Denver, Colorado
Oct. 17—The Waiting Room—Omaha, Nebraska
Oct. 18—Cabooze—Minneapolis, Minnesota
Oct. 19—Majestic Theater—Madison, Wisconsin
Oct. 20—The Orbit Room—Grand Rapids, Michigan
Oct. 22—The Bluebird—Bloomington, Indiana
Oct. 23—Beachland Ballroom—Cleveland, Ohio
Oct. 24—Mr. Smalls Theatre—Millvale, Pennsylvania
Oct. 25—Black Cat—Washington, DC
Oct. 26—Jefferson Theater—Charlottesville, Virginia
Oct. 27—Union Transfer—Philadelphia, Pennsylvania
Submit your Great Job, Internet tips here.