There aren't enough female-fronted rock groups out there, but at least Houston's Wild Moccasins are doing their part to contribute to the scene. Fronted by Zahira Gutierrez, Wild Moccasins make exuberant and energetic indie-pop wild enough to have gotten them noticed by Of Montreal, who are taking the quintet out on tour this spring. The band's got an LP coming later this year for New West Records, but in the meantime, it's released a single, "Gag Reflections." The A.V. Club has the exclusive premiere of the clip, which is filled with jangly guitars, blue lipstick, and singsong choruses. Plus Gutierrez drinks a bottle of Windex, so there's that.
The group's upcoming tour dates are below.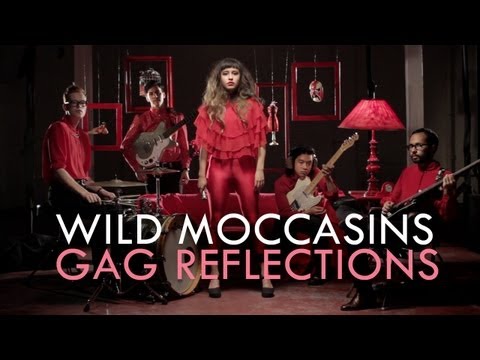 Source
Wild Moccasins tour 2013
May 7—Tricky Falls—El Paso, Texas*
May 8—Crescent Ballroom—Phoenix, Arizona*
May 9—Echoplex—Los Angeles, California*
May 10—Slim's—San Francisco, California*
May 11—Wonder Ballroom—Portland, Oregon*
May 15—Cedar Cultural Center—Minneapolis, Minnesota*
May 16—Pabst Theatre—Milwaukee, Wisconsin*
May 17—Lincoln Hall—Chicago, Illinois*
May 18—The Madison Theater—Covington, Kentucky*
May 20—Town Ballroom—Buffalo, New York*
May 21—Paradise—Boston, Massachusetts*
May 22—Music Hall Of Williamsburg—Brooklyn, New York*
May 23—Canal Club—Richmond, Virginia*
May 24—Blind Tiger—Greensboro, North Carolina*
July 5—Grand Central—Miami, Florida
* with Of Montreal
Submit your Great Job, Internet tips here.