Though the Gathering Of The Juggalos infomercial ostensibly jumped the shark back in 2009 when DJ Clay and Sugar Slam introduced the world to "THE MOST CONTROVERSIAL MUSIC FESTIVAL IN THE WORLD," that doesn't meant that the clips aren't worth watching each and every year when they're introduced. This year's almost-30-minute video centers around Hatchet Action News anchors Guy Gorfey and Fats Pepper, played by Insane Clown Posse's own Violent J and Shaggy 2 Dope, and features claims of not only nude-oil grappling and an after-hours event called "DJ Clay's Horney Nuts And Big Butts Party," but also reminds anyone on the fence that Vanilla Ice is playing, yo. Watch it below.
The 2013 Gathering Of The Juggalos takes place this Aug. 7-11 in Cave-In-Rock, Illinois. Tickets are still available.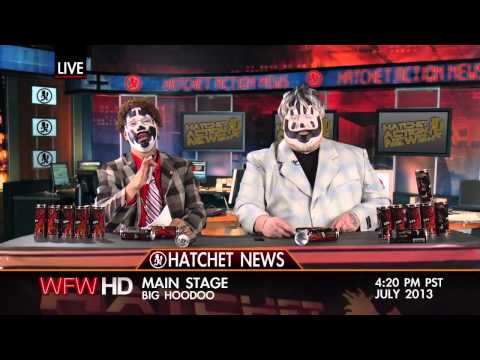 Source
Submit your Great Job, Internet tips here.