Survivor (Classic): "Season Finale"
On August 23, 2000, a mind-boggling 51 million Americans tuned in to watch the finale episode Survivor's groundbreaking first season. Watching it now, over a decade later, with the full knowledge that Richard Hatch the "fat naked guy" is the eventual victor, it nevertheless remains riveting television. Not just because of weaselly Richard's unjust triumph over the iron-willed Kelly (Wiglesworth wuz robbed!!), but because this season of Survivor has the unformed, improvisational vibe that characterizes certain reality shows in their nascent years. Last summer I wrote about the first season of The Real World, which is so delightful to watch in part because the cast members went into the show with so few expectations or pre-conceptions. (That, and the '90s fashions.) However inadvertently, they set the template for The Real Worlds of the future.
The strangest thing about long-running reality series like Survivor and The Real World is the refusal to acknowledge their own legacy. You'll notice that cast members rarely, if ever, allude to past seasons of their show, creating the false impression that they've been raised in an Amish community (come to think of it, it's hard to believe The Real World hasn't yet cast a lapsed Amish person). Given the pervasive, seemingly inescapable influence of reality TV—even those of us who've never watched a single episode of Survivor understand reality-isms like "I didn't come here to make friends" or "throwing someone under the bus"—this is surely the most contrived thing about these series. This false naïveté is especially strange on a show like Survivor, which is nothing more than an elaborate game. 
The thrill of this finale is that so much is still up in the air—not just the eventual winner, but how the game would be played going forward.We get to watch as the series invents itself. If Richard hadn't triumphed, would a kinder, gentler, meritocratic version of Survivor have emerged, one which rewarded industrious people like Gretchen Cordy? I don't know. While I'm no misanthrope, and I'm certainly no fan of Richard, I do think his genius was his seemingly innate understanding the way the game would inevitably be played. If he hadn't invented the alliance, someone else surely would have.
By day 37 on the Pulau Tiga, only the members of the original alliance remain: Kelly, Rudy, Sue, and Rich. The mood on the island is tense, not just because the end is so near, but also because the criteria for winning is so ill-defined. At this point, it's truly anyone's game. The first challenge of the episode is a test of social skills. Gathered around the tribal council fire, the remaining castaways must answer questions about their fellow competitors. Rudy predicts that he'll do terribly, and he does, but what's surprising is how awful Richard is at the game. (Amazing how manipulative someone can be without actually paying attention to the people he's fucking with.) Kelly, the only one who knows the names of Jenna's twin daughters (she even knows their middle names), handily wins the challenge. Kelly may not be especially effusive, but she's obviously a good listener, and it's enough to secure a spot in the final three.
Amazingly, the ensuing vote, in which Richard and Sue get two nods each, represents the very first tie on Survivor. (Richard and Rudy both vote for Sue, while Kelly and Sue vote for Richard). Jeff Probst explains the tie-breaker which, frankly, sounds about as efficient as a filibuster: Rich and Sue will not get to vote, but they will get to plead their cases once again to Kelly and Rudy. I don't want to labor this point too much, but isn't this an incredibly strange way to break a tie? Just cross your fingers and hope someone changes his or her mind?
The next challenge begins before dawn the following morning. Jeff arrives, via boat, and takes Rudy, Kelly, and Rich to the Sand Spit, the site of so much drama (and would-be romance) this season. Jeff explains the very simple final immunity challenge, which is basically Hands On A Hard Body but with the immunity idol instead of a pickup truck. Before the challenge begins, however, the remaining contestants have to go through a patently absurd ritual, walking down the Sand Spit as a group of "natives" wave palm fronds around and chant some mumbo-jumbo about the island spirits. On their way, they'll pass staffs representing their "fallen comrades," pass through a bamboo curtain, and finally, for good measure, walk over a bed of hot coals. Before they begin, Kelly, Rudy and Rich will also, for some reason, cover themselves with mud in some kind of quasi-baptism. It's a spectacularly hokey mish-mash of tribal tropes, but no one seems to mind participating; even Rudy slathers himself in mud with no complaint.
The next elimination is entirely in Kelly's hands, and she votes to send Rudy home. This time, I can't question her rationale: she knows that Richard is less well-liked than cranky old Rudy. In his farewell speech, Rudy explains his survival strategy. "I got three votes, then I got two votes, then one vote, then they forgot about me. I figured I'm right in the middle where I want to be now," he says. "Today's the first vote I got in a month, and it was the fatal vote."
Day 39 begins, and only Rich and Kelly remain. After some waterfront yoga and a little journaling, Kelly joins Rich in dismantling and burning what remains of the Tagi beach. Rich suggests the bonfire is cathartic for Kelly, who's clearly struggling with the moral implications of the competition. Rich? Not so much.  As Kelly and Rich make their very last trek to the tribal council, we hear the eliminated contestants' thoughts about the impending vote. The only thing that's clear is how deeply subjective their decisions will be. 
Kelly and Rich take their place across the firepit from their vanquished rivals. (The past few episodes I've wondered why the jury members have been so silent and, as I learned while reading this engrossing collection of highlights from Mark Burnett's book, they were actually forbidden from communicating with the remaining survivors.) They both make their opening statements to the jury. Kelly's speech is flat and uninspiring, full of nervous "um"s and meek "I hope"s. Her lukewarm pitch is that she's a good listener. She boasts of her performance in the second-to-last immunity challenge. "I didn't have the conversations I had with you and want to know things about you and share my life with you because I thought I was going to be quizzed on it or it was part of my strategy," she says. Sure, Kelly may not be the nicest person on the island but she's, "you know, the better person."
Now it's time for cross-examination by the jury. I'm running short on time here, so I'll just cut right to the chase: Sue is fucking crazy. At least as edited, she's the last juror to give her speech, the sheer, unadulterated insanity and vengefulness of which has not diminished over time. I find it weirdly comforting to know that, no matter what the reality-show producers of the world throw our way, there are some things we can never become inured to. Sue's rat-snake speech is, apparently, one of those things. It's simply astonishing on every possible level: grammatical, syntactical, moral, rhetorical. Like her long-lost twin sister Sarah Palin, Sue Hawk is a master of mixed metaphors, awkward verb tenses, dangling modifiers, and dense, meandering sentences that seem to collapse upon themselves. And, like the former half-term governor of Alaska, she's a culture warrior who likes to put down city folk while boasting of her own "strong work ethic background." In other words, Sue is horrible, but she's also kind of a genius. I've embedded the entire speech below, but the highlight is, of course, when she tells Kelly, "If I was ever to pass you along in life again and you were laying there, dying of thirst, I would not give you a drink of water. I would let the vultures take you. And do whatever they want with ya. With no ill regrets."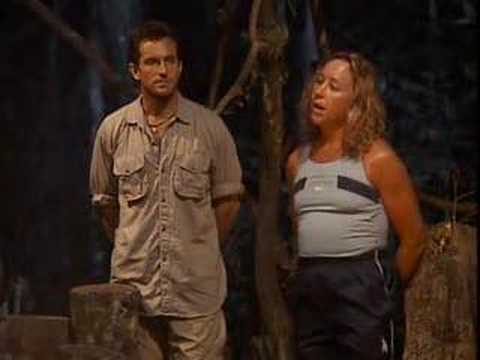 Source
Sue's speech is almost enough to turn the tide against Richard. Colleen and Gervase both switch their vote because of it, with Gervase delivering a memorable sermon of his own ("In my town, that's what we call a 'sore loser,'" he tells Sue). In the end, though, Richard triumphs, four votes to three, taking home $1 million—before those notorious taxes—a brand new Pontiax Aztec, and 30 fewer pounds on his jiggly frame. In the end, Richard's greatest accomplishment isn't making it into the final two—it's convincing his fellow contestants that Survivor shouldn't be a popularity contest.
Stray observations:
All I could think about when Kelly and Rudy were standing there is how damn itchy that dried mud must have been.
Sean really seems to relish calling Rich "fat naked fag" more than he should.
Did you notice the swarm of crabs teeming out of the pot left behind at the Tagi beach? That was crazy.
I love how you can see the jury members have already gained back weight.
This week I spent an inordinate amount of time looking at old recaps and this summary of Mark Burnett's book on Television Without Pity. For those of you who can't get enough Survivor trivia, I highly recommend taking a look.
The only real reason to watch the Survivor reunion, which is mostly a giant bore, is to see all the contestants fattened up in their regular clothes. Kelly's leather tube top and brown lipstick are particularly horrible. (see above and  below screengrabs)
During the reunion it dawned on me that the reason Kelly made it so far—but didn't become a breakout star, like Colleen or Rudy—is that she has the most inscrutable, impassive face ever. Americans like people we can read, and Kelly's face barely changes.