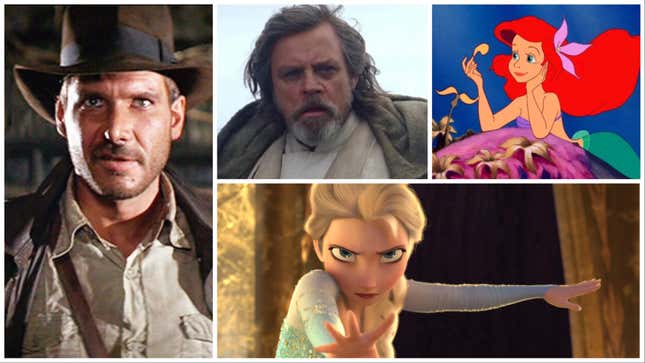 The Hollywood streaming era has wrought plenty of growing pains, from corporate mergers to disappearing IP to consumers subscribing to enough platforms to wonder why they ever cut the cord in the first place. Yet this chapter of cinema history is constantly being rewritten and currently the streamers are retrenching to figure out how to wring more profits while spending less money on content. Of all the streamers, Disney+ has the most desirable IP already sitting around waiting to be exploited (meaning content already bought and paid for), like the Star Wars, Pixar, Marvel, and now the Indiana Jones series. Starting in June, Disney+ is adding all four Indy adventures onto the service to whet your appetite for Harrison Ford's fifth and final film in the series, Indiana Jones And The Dial Of Destiny.

But even if you're not an Indy fan (and if you're not, seriously, what is your deal?) The A.V. Club is here to guide you toward plenty of other hits and hidden gems you likely already know and love. For every Avengers and Black Panther: Wakanda Forever, there's also a Rocketeer. All four Toy Story films are available, but don't forget underrated animation like The Emperor's New Groove or Mars Needs Moms. And thank goodness for classics like Cool Runnings, Freaky Friday, and Who Framed Roger Rabbit. And with the first two Guardians Of The Galaxy films on the streamer, it's safe to say that we've rounded up all currently available Disney+ movies, reviewed or otherwise lauded on The A.V. Club over the years, that are most likely to put a smile on your face.
This list was updated on June 3, 2023.