John Lurie is a busy man. As an actor, he has appeared in Jim Jarmusch's Down By Law and Stranger Than Paradise, Wim Wenders' Paris, Texas, Martin Scorcese's The Last Temptation Of Christ, and David Lynch's Wild At Heart. He's also written the scores for three Jarmusch films (Down By Law, Stranger Than Fiction, and Mystery Train), Manny And Lo, and Get Shorty. He most recently wrote, directed, and starred in the Independent Film Channel's high-concept fishing show Fishing With John, which features Lurie and some of his friends (Tom Waits, Jim Jarmusch, Matt Dillon, Dennis Hopper, Willem Dafoe) fishing in exotic locales (Jamaica, Key West, Maine, Thailand). But Lurie is perhaps best known for his music: For about 20 years, he has led the eclectic New York jazz ensemble The Lounge Lizards, a band he formed during that city's No Wave heyday. Though Lurie once jokingly referred to The Lounge Lizards as "fake jazz," the term has come back to haunt him as his compositions have matured. The Lounge Lizards' latest release is Queen Of All Ears, an excellent disc that marks the inception of Lurie's Strange And Beautiful label, which has also released the soundtrack to Fishing With John. The Onion recently spoke with Lurie, who is preparing to once again take The Lounge Lizards on the road.
The Onion: What's the difference between fake jazz and real jazz?
John Lurie: I don't know what either one is. What is real jazz, first of all?
O: I don't know. No one even calls Kenny G fake jazz.
JL: Well, Kenny G is not real jazz. I don't even think Wynton Marsalis is real jazz. I don't think Harry Connick Jr. is real jazz. If there is such a thing as real jazz, The Lounge Lizards is real jazz, Henry Threadgill is real jazz, Bill Frisell is real jazz, you know? But "fake jazz" is a term I invented after our first concert in 1979; I just threw it out there. This whole thing is so absurd. After our first show, all these journalists came into the dressing room and said, "What do you call this music?" I said, "Oh, it's fake jazz," which at the time is kind of what it was. That was 20 years ago, you know? I'd really just like to leave "fake jazz" out of it all together.
O: Do you think, in some sense, that groups like The Lounge Lizards-and maybe to a lesser extent Medeski Martin & Wood-may be opening people's ears to jazz who may not have otherwise listened to it?
JL: Yeah, maybe. Who knows how all that works? There's a billion little streets going through it, and people get to some things through other things. It goes all the way around. People could get to Medeski Martin & Wood through Miles Davis for all I know, you know what I mean?
G/O Media may get a commission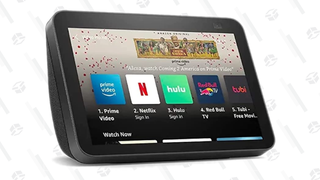 O: Still, most jazz records don't get reviewed in the pop press, like Rolling Stone.
JL: But it just doesn't matter. The categories don't matter. I mean, if you asked me if I like jazz, I might, depending on the moment you asked me, say I either love it or I hate it. It becomes a semantic problem. What I believe to be jazz is constructed and improvised music which is in the air right now. But I don't think that's most people's definition of jazz, you know? We don't know what we're talking about, because we don't know the definition.
O: But people do have certain assumptions when they hear the word jazz, whether they're right or wrong.
JL: Yeah, but they're all different.
O: Well, I know a lot of people, myself included, who were exposed to players like John Coltrane or Ornette Coleman through players like John Zorn.
JL: Really? That's some of the great stuff. Ornette Coleman and Coltrane are musical institutions, and anybody who is remotely interested in music or culture should know about those people.
O: Yeah, but young people aren't going to go out and listen to Kind Of Blue. Young people are going to listen to stuff like The Spice Girls.
JL: I suppose. But that isn't necessarily true in Europe.
O: Do you think young people there are more open to different kinds of music?
JL: I think they're better educated. I don't know how that came about. They wouldn't have the Monica Lewinsky scandal in Europe, you know? It's not that I think Europe is better than America or anything, but we have some problems over here. You know what's terrifying to me? I heard that there are more people alive on the planet today than have ever lived and died. Which means that more people have heard Jewel than have heard Beethoven. In the history of the world!
O: Do you think your TV show has made you a veritable personality?
JL: [Laughs exasperatedly.] All I try to do is make music and then promote the music, and it always backfires on me. The music is 90% of my life, and no matter what I do… I did these fishing shows, which I'm proud of, and I think they're funny. I decided to put out these records at the same time as the fishing show to help the music, but it backfired, because the fishing show so overshadowed the music in the press' eyes that the music didn't get the attention it should have gotten.