Though keyboard player Mitchell Froom made his inauspicious recording debut with The Key Of Cool, the re-titled soundtrack to 1982's cult science-fiction porn film Cafe Flesh, he has gone on to become one of the most sought-after record producers of our time. The list of artists with whom Froom has worked is impressive: It includes Los Lobos, Elvis Costello, Richard Thompson, Paul McCartney, Cibo Matto, The Pretenders, Crowded House, Ron Sexsmith, Sheryl Crow, Bonnie Raitt, and Froom's wife, Suzanne Vega. Additionally, he is a member of The Latin Playboys, a band that also features his long-time engineer Tchad Blake and Los Lobos' David Hidalgo and Louie Perez. The Latin Playboys' second album (Dose) is slated for fall release, but in the meantime, Froom has recorded his first "proper" solo album, Dopamine, a collaboration with many of the big names that made him famous. The Onion recently spoke to Froom about his unique start, his production work, his new album, and life behind the scenes.
O: So, how did you end up doing the soundtrack to a porn movie?
MF: To begin with, it wasn't a porn movie. It was funded by porn people. I knew the director [Stephen Sayadian], and a friend of mine [Jerry Stahl] had written it with him. Obviously, it was very low-budget. The director told me, "Look, these pussycat theaters are funding this film, so I've got to shoot this porn footage, but my idea is to shoot it with the instructions that everyone act as if their mother just died. I want it to be really dark. So just score this film as an R-rated film, and in these sections just add on a few extra minutes, but make the music real disturbing." [Laughs.] So, of course, the film came out and was released to these theaters, and it closed in about two days. It was, you know, not "satisfying." And then somebody found it and released it as a midnight-movie kind of thing, an art film. It got a following in L.A. for a few months, and the result was that Slash Records got interested in letting me release [the soundtrack].
O: Is that what led to some of your producing gigs?
MF: It led to my first one, because I had recorded that album on an eight-track in a cheap little studio, and the head of the company liked the way it sounded. He had this group Del Fuegos that nobody wanted to work with, and Warner Bros. was upset that Slash had signed them. It was kind of a desperation move. He told me he liked what I had done on an eight-track, and then asked me to rehearse this band and make a demo. He said that if it was good, I could make the record. People liked it, and that gave me my start. The next group I produced after that was Crowded House, so it happened quickly.
G/O Media may get a commission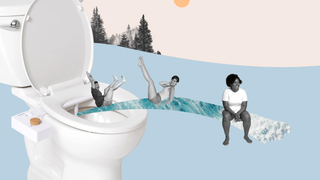 17% off
Tushy 3.0 Warm Water Spa Bidet Attachment
O: Some of the label executives thought the production on the first Crowded House record was really "out there," and were worried about its commercial potential, right?
MF: Yeah, it's been the nature of my career. That record didn't succeed for about nine months, so I heard everything. The record came out, and people were telling me it was too wild, and that there was no lead track, and that the arrangement of some song was all wrong, and that's why it wasn't a hit. And then, all of a sudden, two of these songs ["Something So Strong" and "Don't Dream It's Over"] become big hits. So I got a quick education. The album really wasn't that wild at all. It's got some spirit to it, but it's a pop record.
O: How did you meet Tchad Blake?
MF: We met on the first Crowded House record, so that's how long we've been working together. The '80s were a very depressing time to be a producer: It was probably the worst single decade you could try to enter the field in. Tchad just had a great spirit to him. He had liked my first solo record—I don't know how he heard it—and he gave me a Barbarella soundtrack to listen to. It was sort of a meeting of the minds. We decided quite early on to try to develop a kind of relationship where the two of us working together was stronger than the two of us working separately. I think the first record where that happened was the Kiko record [by Los Lobos], after about five years of working together.
O: Are there ever cases where you have to turn down jobs because what you and Tchad do doesn't mesh with the artist?
MF: The real funny thing about my situation with Tchad is that you never know what you're walking into. We'll be really flattered and asked to produce the label's biggest artist, and it'll be a real big deal that makes everyone excited. In the case of Ron Sexsmith, they didn't want me to do the second record; they don't want me to do the new record. There's this attitude like we can't deliver the hits and that someone else can. It's perplexing. You're either treated like a dog or treated like a king. There's one thing about music which seems to me an absolute: You can't control it. Just because an A&R guy wishes that the artist would do something, if the artist doesn't write it, you're not going to get it. If I produce it or if someone else produces it, it's not going to make a difference in whether or not it's a hit. There are so many things involved in what's successful or not. It's this controlling aspect from people who don't understand music at all that's the hardest thing to deal with.
O: Is Dopamine a reaction to that?
MF: Originally, I made the record for Geffen, and we had talked about it almost four years ago. I got the go-ahead, but was given a choice: I could get a slightly bigger budget, but then the label would be involved, or a smaller budget and more freedom. So, based on my experience, I said, "Give me the smaller budget and I'll figure out how to work with it." That's why the record took so long. I would grab free studio time from whomever I was recording whenever it was available. It took about three years before I got half the record done for free, and then I accessed the budget. I wanted to make a record that would prompt someone to ask, "Who paid for this?"
O: Did the album give you a chance to try things you wouldn't normally be able to do?
MF: Yeah. It was completely backwards. The whole idea of Dopamine was as an arranger's record. I wrote all the music and recorded it, and then people came and sang on it: As opposed to finding the right backing for a certain song, they had to come in and try to make a song out of this music. I wanted to approach this album like a traditional arranger in modern times. Everything is real, no samples. Each track was a musical experiment. I hope there's a sense of musical depth to it; that's why I had singers involved with it. That's what's interesting about popular music: people singing their own words and what they have to say. I felt like the record would be self-indulgent if I didn't have that. Then it became an experiment in trying to find what person would go with each track. I was afraid it would be seen as one of these vanity projects, where you get a producer who works with his famous friends, but where the record ends up sounding like one of those tribute albums that don't hold together at all. But I can't worry about that perception; if that's what they think, it won't change. I just wanted to make it as entertaining as I could.