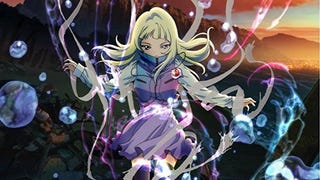 English musician Mica Levi (formerly of the lo-fi noise-popsters Micachu And The Shapes) has developed a reputation as one of the most interesting composers in film on the strength of her scores for Under The Skin and Jackie, the latter of which earned her an Oscar nomination. But while we're still waiting for a…
In Hear This, The A.V. Club writers sing the praises of songs they know well. This week, we're picking songs from 2016 that we discovered too late in the year to include on our year-end ballots.
Normally, the composer chosen to work the score of an upcoming science-fiction film project wouldn't be considered particularly newsworthy. But Mica Levi's involvement makes this an understandable exception. The 29-year-old Surrey-born experimental pop musician (she originally gained notoriety with her band Micachu &…
Every Friday, dozens of new records are released into the wild. Some make big splashes, and others sink almost immediately. For most music consumers, it's almost too much information, and save for those precious few who spend their hours glued to review sites and release calendars, it's hard to know what's coming out…
Britain's Channel 4—best known in the US as the original home of cult items like The IT Crowd, Spaced, and Garth Marenghi's Darkplace, and at home as a tide pool of reality shows and imported American TV—is in the middle of a large-scale rebranding effort. Part of that involves crafting new ident bumpers to run during…
Welcome back to AVQ&A, where we throw out a question for discussion among the staff and readers. Consider this a prompt to compare notes on your interface with pop culture, to reveal your embarrassing tastes and experiences, and to ponder how our diverse lives all led us to convene here together. Got a question you'd…
In Hear This, A.V. Club writers sing the praises of songs they know well—some inspired by a weekly theme and some not, but always songs worth hearing.