These days, movie studios have so much riding on their big adaptations of toys, cartoons, and board games that it's tough to survive a Jem-like flop. To avoid running into something like that for its Barbie movie, Sony has decided to hire three writers who will each work on a draft of the script. That means it has tripled its chances of getting a good draft, and while it has also therefore tripled its chances of getting a bad draft, it only needs one good one in order to move forward with this project. Or, if it can't get one good draft out of this, it could even take all of the best parts from each one, combine them, and just work off of a Frankenstein's monster-like creation.
Recent Video
This browser does not support the video element.
Anyway, this comes from Deadline, and the three writers involved are Lindsey Beer, Bert Royal, and Hilary Winston. The previous draft was written by Diablo Cody, but maybe that one had too my instances of the word "homeslice" for Sony and Mattel. Also, even though we're probably going to have to bring this up every time we talk about Barbie, this movie has nothing to do with Reese Witherspoon's Barbie movie, which is more about the concept of Barbie than the actual Barbie character.
G/O Media may get a commission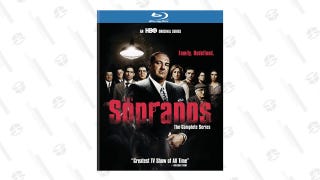 Save $88
The Sopranos: The Complete Series
Obey the family
For 6 seasons, fans devotedly watched mob boss Tony Soprano deal with the difficulties of balancing his home life with the criminal organization he leads. Experience the beloved, award winning complete series like never before, from the mob, the food, the family and who is next to be whacked.