The defining opus of alternative rock, 1995's double-disc concept album Mellon Collie And The Infinite Sadness captured the post-grunge zeitgeist more completely than any other record. With their androgynous, dead-faced expressions and smothering, distorted guitars, The Smashing Pumpkins embodied Gen-X pessimism, confusion, and repressed anger (all succinctly conveyed by Billy Corgan's iconic "ZERO" T-shirt.) But Mellon Collie went far beyond the usual noisy disillusionment of youth. Daringly diverse and compellingly grand, the album—running longer than two hours—developed the genre in strides, achieving sublime occasions of beauty, serenity, and depth, toeing the line of self-indulgence without crossing it. The same cannot be said for the record's new "deluxe" remastering, its magnetic-seal lift-top box brimming with every superfluity and gimmick Corgan could cram in: two books of notes and lyrics, six discs tucked into velvet, and, essential to the crafts-inclined fan, a decoupage kit of expanded album art.
Recent Video
This browser does not support the video element.
Mellon Collie was carved from a wealth of material—57 finished songs contended for the album's 28 spots—and nearly all of it is here, and more. With demos, live takes, alternative mixes, and previously unreleased material across three additional CDs (named "Morning Tea," "High Tea," and "Special Tea," conveniently coinciding with Corgan's recent foray into the tea-shop business) along with a DVD of two 1996 live performances, the whole ordeal swells to 106 total tracks, an excess that feels less about completing Mellon Collie's sprawling concept than about justifying the $125 price tag. For a record that went diamond and received seven Grammy nominations, there just doesn't seem to be much interesting content lurking behind Mellon Collie's curtain.
Skeletal demos of "Bullet With Butterfly Wings," "1979," and others offer worthwhile glimpses at the album's best tracks early in the creative process, but much of the unused scraps taken from the cutting-room floor should have stayed there. Alternate mixes and rough studio takes feel like rudimentary, run-of-the-mill practice sessions rather than evolving iterations. And while there are a couple of quality B-sides and rarities sprinkled throughout (a lush cover of "My Blue Heaven" being a particular highlight), overall, the glut of throwaway material makes the record, in retrospect, seem more overblown than groundbreaking. Though Mellon Collie's inflated reissue will surely garner Corgan and company a couple extra bucks from holiday shoppers, it's a disappointingly conventional treatment of an album that once represented unease and discomfort with convention.
G/O Media may get a commission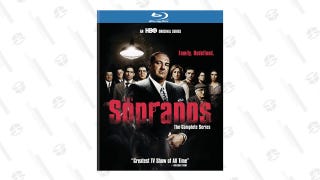 Save $88
The Sopranos: The Complete Series
Obey the family
For 6 seasons, fans devotedly watched mob boss Tony Soprano deal with the difficulties of balancing his home life with the criminal organization he leads. Experience the beloved, award winning complete series like never before, from the mob, the food, the family and who is next to be whacked.