It's bizarre but totally appropriate in our postmodern, reference-happy age to see a phenomenon like Stranger Things echo its influences. The feedback loop began with the 2016 debut of the supernatural Netflix series, when much was made of the debts its free-roaming preteen outcasts and their telekinetic friend owed to 1980s Stephen King works like It, Firestarter, and The Body/Stand By Me. One year later, the long-gestating cinematic It gobbled up the late-summer box office, with the kids-on-bikes chapters of King's epic picking up a distinct Hawkins-like flavor on the way to the movies, intensified by the presence of Stranger Things' Finn Wolfhard.
And now that film's Pennywise, Bill Skarsgård, is out of the Derry sewers and in Castle Rock, where he plays a mostly mute former prisoner of a rogue government employee who has a mysterious past and abilities seemingly beyond human comprehension. Placing such a character at the center of a small-town mystery—albeit one with some decidedly adult themes—brings to mind nothing more than a version of Stranger Things where the nods to King are direct, fully authorized, and intellectual-property-lawyer-approved. That attempt to synthesize half a century of published works into an anthologized TV series can be thrilling, but more frequently messy. In that light, it earns its title as the Stephen King adaptation of all Stephen King adaptations.
Plopping itself down in the titular Northeastern epicenter of the King multiverse, Castle Rock is also very much a product of our current TV age. J.J. Abrams' producer credit may mean as much as King's: While shepherded to the screen by the Manhattan team of Sam Shaw and Dustin Thomason, the production of Castle Rock was shrouded in the customary level of Bad Robot intrigue, and the four episodes screened for critics fit comfortably—for good and ill—in a landscape of mystery and breadcrumbs shaped by Lost and aggressively re-terraformed by Westworld. Old John Locke's even along for the ride, with Terry O'Quinn playing Shawshank State Penitentiary warden Dale Lacy, who has uneasily eyed the strange goings-on in his hometown ever since he was a high schooler.
G/O Media may get a commission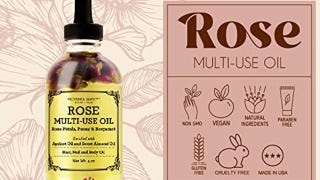 Provence Beauty Rose Multi-Use Oil
Readers and IMDB top 250 watchers will recognize Lacy's place of employment, and maybe the name of the retired lawman played by Scott Glenn, too: Alan Pangborn, the sheriff from Needful Things and The Dark Half. (Jane Levy's Castle Rock character goes by Jackie; want to take a guess at her surname?) Into this world of callbacks and Main Street American blight walks Henry Deaver (André Holland), a death-row lawyer whose brief childhood disappearance rocked Castle Rock and ultimately made him the town pariah. His return is a surprise to potentially psychic real estate agent/Henry's one-time admirer Molly Strand (Melanie Lynskey) and his sundowning adoptive mother, Ruth (Sissy Spacek). The burg's bottomless reserves of spooky tragedy are matched only by its deep bench of character actors with past King experiences: Frances Conroy plays screen wife to her Silver Bullet co-star O'Quinn, while Ann Cusack pops over from Mr. Mercedes to play the corporate suit in charge of privatizing Shawshank.
Castle Rock is one of those TV settings with a lot of personality, and the show does a lot of its best work while fleshing out the town's background, with O'Quinn narrating flashbacks to a series of tragedies that you just might want to pin on a common cause and/or link. It's not all doom and gloom: There's a fitting streak of gallows humor running through these history lessons, the mythology-stoking segments balanced by the considerable comic chops of the cast. Saddled with the ironic task of selling property in a cursed town, Molly has to remind herself not to talk up a house on the basis of its "bones." Levy's performance suggests what Castle Rock might look like if Joss Whedon were the mayor. Told by Molly that the residents need a place for peaceful contemplation, Jackie responds, "The only thing people contemplate in this town is suicide."
Castle Rock looks like a Different Seasons affair, each new installment a TV novella with a shared setting. But this first outing has a Stand's worth of story threads wriggling around within it: Molly's plans to revitalize Castle Rock are more often than not drowned out in the first four episodes, if not by the empathic projections and receptions that cloud her mind and push her toward prescription drug abuse, then by the incidents at Shawshank or the ongoing enigma of what happened during Henry's disappearance all those years ago. How these threads are connected will be revealed in due time—because this is clearly an "everything is connected" kind of show—but Castle Rock sure is pokey about it, which doesn't bode well for a story that's being told within a 10-episode framework. The show excels at bookending its episodes with big set pieces and stylish suspense sequences. It lets the slack out in between, when all those stories have to jockey for position with the mythology and characters, who are still only partially formed nearly halfway through the season. Castle Rock has to have a lot of personality, because a lot of the people living there don't.
More often than not, performance carries the day. Holland's expressiveness, so memorably captured in Moonlight close-up, conveys more about Henry's haunted past and onerous legal specialty than the writing ever does (or can, in the early stages of something so dependent on withheld information). Spacek, whose star turn in Carrie brought her and King into the big time, does heartbreaking work as the declining Ruth. Glenn is essentially reprising his portrayal of Kevin Garvey Sr. from The Leftovers, which is objectionable only because it'll put you in mind of a better Lost-adjacent series where the mystery always came second to the people bewildered by it. And then there's Skarsgård, who's hair-raising in his anguished glares and feral eating habits. It's presence as horror acting: a lanky, extraterrestrial frame looming over the Shawshank guards; a stillness to out-intimidate a cellmate covered in Nazi tattoos. He's a key wrapped in a riddle wrapped in an enigma hidden away in a hatch full of one Maine town's darkest secrets.
The biggest question mark left hanging after four episodes is what makes Castle Rock different than any other small-town puzzle-box drama? And not just Stranger Things: A couple of good scares and some artful flourishes aside, the only things distinguishing the show from wannabe Twin Peaks series like Wayward Pines or Happy Town are the King pedigree and Easter eggs. (And while the Molly-centric third episode is a proper mindfuck with a great sartorial nod to It, there's little indication that Castle Rock has the guts to get as genuinely weird as Wayward Pines.) There are times when the show inches toward making a big statement about contemporary issues, but when the storytelling's sloppy and the characters are lacking, dilapidated storefronts, menacing representatives of the prison-industrial complex, and an addiction subplot are as empty as the Overlook Hotel in the dead of winter.
Castle Rock has an enviable sandbox to play in, inspired by the works of a master storyteller whose characters haunt the imagination long after they're returned to the shelf. But what if a TV show were so enamored of the ominous red balloons and bleeding walls in that sandbox that it overlooked all the other things people like about Stephen King? Now that's scary.