As we get older, Halloween gets a bit more sinister—just look at the current crop of jump scares in multiplexes right now. But for kids, Halloween remains more purely fun than scary, and the only thing that edges the year-end holidays ahead of the spooky season is the presents. So with the big day less than a week away, we encourage you to dive into our reading and viewing options to make sure you and your kids get the most out of the actual most wonderful time of year.
---
The Worst Witch (Netflix)
Like Harry Potter pre-Howarts, Mildred Hubble leads a rather humdrum existence. Then one day a broomstick crash-lands on her balcony, and she gets drafted into the witchy Cackles Academy. But where Harry saunters around as the chosen one, Mildred accidentally drops explosive potions and crashes into trees. Potter fans will likely find the magical academy refreshingly familiar, with Snape- and Malfoy-like characters, witch-companion cats, and two full seasons to explore on Netflix (based on a series of books by Jill Murphy). Best of all, Mildred's unflagging and cheerful tenacity may help inspire kids to overcome embarrassing or clumsy obstacles in their own schools, even if they're studying social studies instead of broomstick proficiency.
Suggested age: Kindergarten through 5th grade [Gwen Ihnat]
---
Spooky Pookie by Sandra Boynton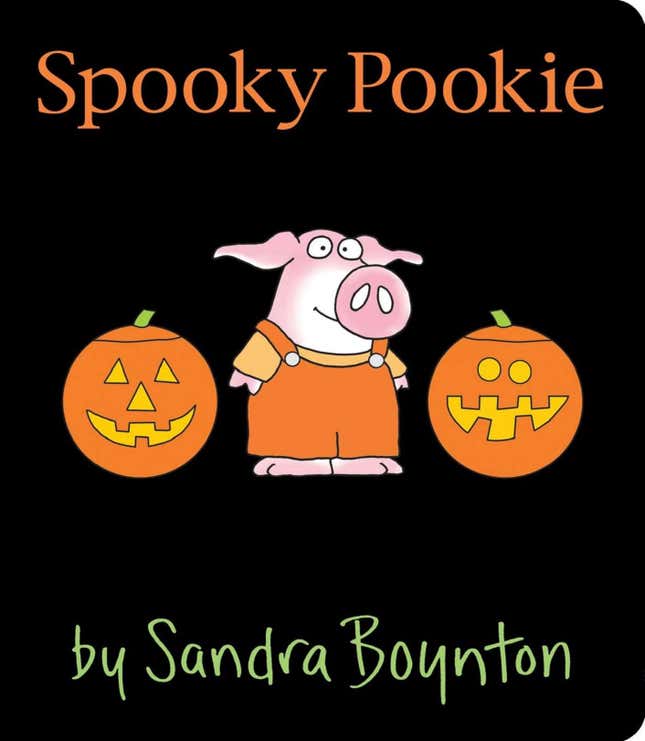 Were such a thing possible, Sandra Boynton would be on the Mount Rushmore of children's picture book authors. Her short books have a fun sing-song rhyme to them and find a good mix of learning while being silly. Spooky Pookie is her Halloween treat. The story follows a little pig named Pookie as they try on different costumes for Halloween, such as a pumpkin or a banana in striped socks. None of them are hitting that mark, until the very last one, which is scary enough to cause his mother to yell, "Spooky Pookie!" Like all of Boynton's books, Spooky Pookie is effortlessly re-readable, and adds a mild dose of scare that's tame enough for the littlest readers while still being fun.
Suggested age: Newborn to 5 [Eric Munn]
---
The Room On The Broom universe
I suggested this book in this space a few years ago, as my twins and I instantly fell in love with Julia Donaldson's lyrical rhyme schemes and Axel Scheffler's charming illustrations. The Gruffalo creative team turned to the sweet story of a benevolent witch who picks up some weary travelers who wind up coming in very handy at the end. Revisiting it a few years later, I am not surprised to find that Room On The Broom is practically its own cottage industry at this point. It became an Oscar-nominated short film in 2014, with Simon Pegg as the narrator and Gillian Anderson as the witch. There are soft toys, games, puzzles, and even action figures, all complimenting the compelling story about the importance of generosity, even if you're a witch. If you haven't read this book to your kids yet, I urge you to remedy this oversight as quickly as possible; then follow up with the video version, and a possible stuffed dragon.
Suggested age: All of them, really [Gwen Ihnat]
---
My Mama Says There Aren't Any Zombies, Ghosts, Vampires, Creatures, Demons, Monsters, Fiends, Goblins, Or Things by Judith Viorst, illustrated by Kay Chorao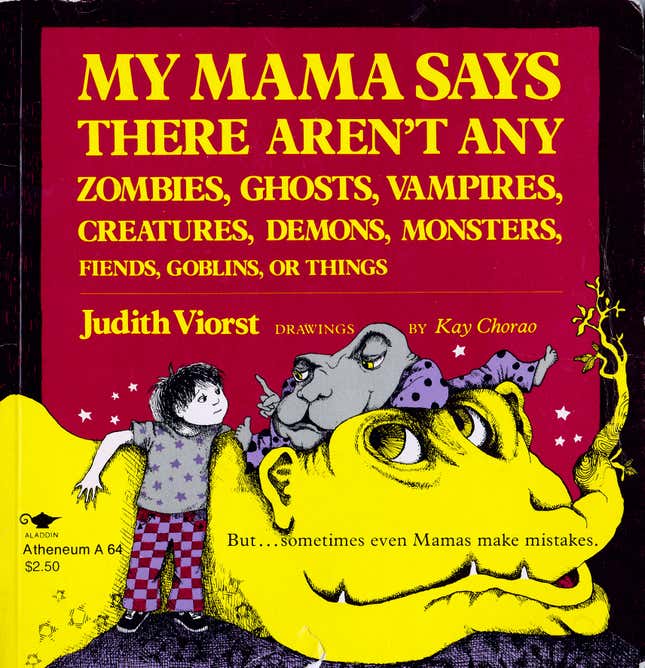 Judith Viorst, best known as the author of Alexander And The Terrible, Horrible, No Good, Very Bad Day, continued her fondness for crazy long titles with her follow-up, My Mama Says There Aren't Any Zombies, Ghosts, Vampires, Creatures, Demons, Monsters, Fiends, Goblins, Or Things. It's a short little storybook that's stayed with me since my childhood, both because of the wonderful illustration and because it's the book that introduced me to the idea the parents can be wrong.

Kay Chorao's simple pen and ink line illustrations give the book an appropriately otherworldly feeling. She's equally adept at capturing the minor notes of frustration on character's faces as she is at presenting evocative monster designs—which are more unsettling than conventional Halloween creature designs due to their dreamlike depictions. There's definitely a residual hippie-folk influence with her monsters; strange creatures flutter through the pages draped in folds of wildly patterned fabric and long, slender claws ending in leafy branches.
There aren't a whole lot of children's books that revolve around the idea of the fallibility of your parents, but—as a parent myself, especially one who screws up fairly regularly—it remains an important lesson for kids to wrap their minds around. The humor of the book is how the boy, Nick, extrapolates the most severe conclusion from the smallest of mistakes. He figures if his mom is wrong about there being cream cheese in the refrigerator, then how can she be believed when she tells him there isn't a vampire in a brocaded cape flying over their house. But then again, maybe the contrast isn't so drastic. My oldest kid is 9, and while I can see the end rapidly approaching, she's still at the age where she miraculously believes my wife and I are the all-knowing cosmic forces many young children believe their parents to be. So in some ways, a crack in that authority is as otherworldly as the shapeless, amoeba-like creature oozing outside your window, looking for a way in.
Suggested age: 4 to 10 [Nick Wanserski]
---
Mary McScary by R.L. Stine, illustrated by Marc Brown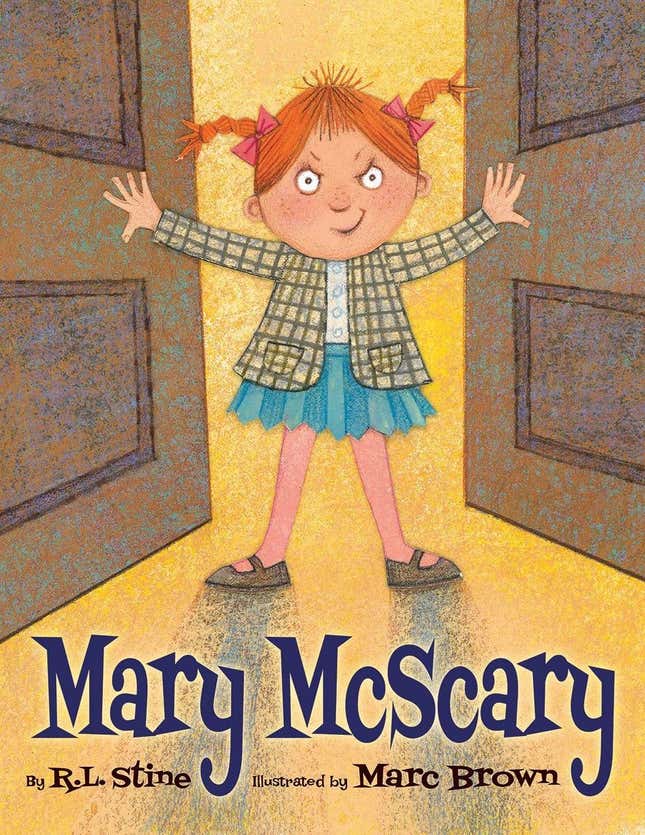 The dream matchup of Arthur artist and author Marc Brown and Goosebumps legend R.L. Stine has resulted in the totally winning picture book Mary McScary. Our heroine/villain delights in terrifying her classmates and family. But when she can't get a shock out of her brother, what's a scarer to do? The considerable pedigree of these two friends and creators not only makes Mary McScary a delightful Halloween read, it also makes for a possible gateway book into Arthur chapter volumes and the Goosebumps series a few years later.
Suggested age: 2 to 7 [Gwen Ihnat]
---
Scary Flying Shark (YouTube)
If you're a parent, you've undoubtably heard of Baby Shark. But have you heard of his murderous, supernatural uncle, Scary Flying Shark? A character in the 50-plus character universe of mysterious and prolific YouTube kid-content maker USP Studios, Scary Flying Shark started out as a normal, living, swimming shark, but after dying (natural causes in some versions, in others he hits the bottom of a pirate ship), and getting struck by lightning (or simply turning into a ghost), he is driven by bloodlust for small children. There are several Scary Flying Shark music videos—in some he's a mechanical, steam-punky shark that hunts down anthropomorphic cars—but the scariest lyrics are in one where he flies after 5-year-olds running in terror down suburban streets:
Sometimes it even enters the chimney of your house… And you will meet your doom.

Just hope it does not find its way to your tiny bedroom,

Because there will be no running
And no escape
So if you see my 2-year-old trick-or-treating in a shark costume this year, she's not Baby Shark. She's Scary Flying Shark. Be appropriately terrified.
Suggested age: Toddler to 5 [Marla Caceres]
---
Scary Stories To Tell In The Dark by Alvin Schwartz, illustrated by Stephen Gammell

Some of my A.V. Club coworkers were surprised when I was unfamiliar with Scary Stories To Tell In The Dark, which out-Goosebumps Goosebumps. I even found the book covers traumatizing. For older kids looking for genuine Halloween terror, the three volumes are perfect for this time of year, containing stories based on urban legend ghost stories like "The Hook" in the car door, the killer in the backseat in "High Beams," and the terrorizing of "The Babysitter." "The Ghost With The Bloody Fingers" and "The Dead Man's Brains" definitely take things past Slappy territory, more like horror reads for kids who aren't quite ready for Stephen King yet, but will be in a few years. My almost-12-year-old son read the first paragraph in Scary Stories, put the book down, and said, "I'm already scared." Then he quickly picked it up again and hasn't stopped since.
Suggested age: 10 and up, at the very least [Gwen Ihnat]
---
Hotel Transylvania 3 (Amazon)
Hotel Transylvania's second sequel counter-marketed by coming out this summer, as Dracula and his family and friends went on a vacation cruise. Fortunately, that means that the movie is already available for streaming on Amazon in time for Halloween, and it'll be the perfect post-trick-or-treat wind-down for your sugar-crazed crew. While the plot is a bit of a head-scratcher (why is Drac so worried about how his dating will affect his daughter Mavis?), the talented HT team turns its comedy and animation skills toward spectacular visual outings like an underwater volcano, adding fun touches like a terrified volleyball, a giant stowaway pet, and several fantastically funny scenes featuring Blobby, who really comes into his own in this movie. Joe Jonas stars as the Kracken.
Suggested age: 5 to 12, also adults grateful for an animated movie they'll likely enjoy as much as the kids [Gwen Ihnat]