Whether you think Another Period is working as a period sitcom-slash-reality series parody or not, it's very important to note that Another Period's very success (or lack thereof) depends greatly on the leadership of Natasha Leggero and Riki Lindhome, both as showrunners and lead actresses. The plots are driven by them—and Lillian and Beatrice Bellacourt—even with a mightily talented cast of actors (comedic or otherwise) that could easily anchor their own version of the show.
At least, it appears as though the supporting cast could easily take over, which is why "Senate" is actually the first truly disappointing episode of Another Period. This is the first episode of Another Period to put Lillian and Beatrice in the corner, choosing instead to put focus on their brother Frederick. Now, while Frederick (and by extension, Jason Ritter) has been an unexpected highlight of the series, "Senate" goes a long way to show why there's a reason Lillian and Beatrice are the stars—and it's not just because of Leggero and Lindhome's role as showrunners. These ladies are the messy glue that holds this entire coordinated trainwreck together. We just needed to be reminded of that.
As if in response to recent comments about the lack of the Commodore in these first few episodes, David Koechner makes his more pronounced "return" in this episode, which is a major reason why this is the Frederick show. In the Commodore's world, this is man's world. But sadly, as great as everyone in this cast is, Another Period is a show that just works at its best with women at the forefront. Here, not only are the women the supporting characters, but the A-plot is all about the Frederick learning lessons about manliness from Hamish and Victor (as Garfield takes notes, possibly on Towel). It honestly makes a lot of sense that a more present Commodore is one who values masculinity above all else, especially in a house full of boisterous women (one of which is his mistress/dominatrix). But it's sadly not the most compelling version of the show.
It's all still pretty funny. That doesn't appear to be a problem with Another Period if we're going with its baseline (which is probably the best thing to call this). It's just not as funny. It was bound to happen, but now it's apparent that the parts of the show that might actually be the most divisive (Lillian and Beatrice) are actually the best. That definitely is a like it or not position.
G/O Media may get a commission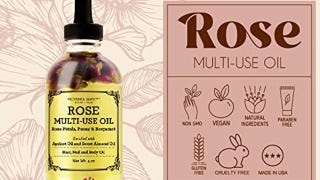 Provence Beauty Rose Multi-Use Oil
Again, none of this is to say the guys aren't worth watching. Jason Ritter really is an underrated highlight of the series, as this episode has him trying to figure out how to get past Frederick's alleged "latent and acute homosexuality," despite his not-so-secret affair with his twin sister. Then, the fact that he has believed that Victor's name has been "Vigtar" this entire time just feels right—it feels very Frederick, much like everything in this plot, even as he asks himself "to be queer or not to be queer." I've wanted to truly compare Another Period to It's Always Sunny In Philadelphia for quite a while—especially given its proclivity to go out of its way not to employ blackface, while Sunny definitely went there—but Hamish busting out his own version of the D.E.N.N.I.S. System with H.A.M.I.S.H.—heat, aggression, mesmerize, isolate, say, hit—officially brings it there. Then there's Chris Parnell's arrival as Dr. Sigmund Freud, another example of perfect casting from Another Period with the man they call Dr. Spaceman. The focus on the men of the show isn't bad, because the men they have aren't bad characters or talents. But the winners of the series are relegated to the background here, and it's not for the best.
The NAG/women's suffrage group returns this episode, mostly to show that Hortense is weird even for them. In just these few episodes, Hortense has always been the unattractive butt of jokes, so it's quickly become necessary for her to find just one person that sees something there that wasn't there before. Here, Brian J. White's Chef Chauncey Allistar is just that person, and while the plot of her losing her virginity to a black man (again, that's not the actual joke of the plot) isn't all that great, the music cues more than make up for it. I feel it's impossible to forget the "Pony" riff that comes with their scenes, especially with lyrics as amazing as "I wanna make some bacon babies with you." If you'd just gotten that out of your head, I apologize.
But the best part of the episode is the chaos caused between the NAG group and Beatrice and Lillian, which reaffirms the point about the female leads really being what holds Another Period together. Crazy Beatrice quickly became a favorite back in "Divorce," but it, along with secret savant Beatrice, just might make her the most interesting—even well-rounded—character on the show. Not too bad for the dumb one. Once all hell breaks loose, that's when the episode gets interesting. It's kind of a bloodbath. But it's also definitely late in the game and maybe even a little too late. Blame it all on the hysteria, which is exactly what Freud does.
Stray observations
Poor Dodo. She deserves so much more than the Commodore. And all of the drugs. She just deserves so much more.
Dodo: "He called out the name Celine in his sleep."
Peepers: "Sounds French Canadian." Insert rimshot here.
Hamish now knows what Chair's situation really is with the Commodore, and blackmail is in play. "I've saved up 50 cents," says Chair. Oh, Chair.
Beatrice the savant rears her head again, as she is of course an accomplished flautist. She's also very anti-suffrage. It's cute.

Pick a side: "NO VOTES FOR WOMEN" or "NO. VOTES FOR WOMEN"?