Actress and professional cosplayer Chloe Dykstra has published a lengthy autobiographical essay on her Medium account, in which she accuses an unnamed ex-boyfriend of sexually and emotionally abusing her throughout the entire tenure of their long-term relationship. In the post, Dykstra says she's not "intending to point my finger at the man who did it (though that may be an unfortunate consequence for him), but for a different reason," to get closure and move on for the sake of her own mental health.

Sharon Stone made a fraction of what Michael Douglas did for "Basic Instinct"
In the post, Dkystra recalls being in her early twenties and "falling for a man almost 20 years my senior." Within weeks of establishing their relationship, she says, the man forbade her to go out at night, have male friends, drink alcohol, take photos of the two of them, or speak in public places, and "these were just a few of them." She adds that she "let him sexually assault me. Regularly. I was expected to be ready for him when he came home from work."
Dykstra takes care to not explicitly name names in her post, but she does give some big hints, such as "I watched and supported him as he grew from a mildly successful podcaster to a powerhouse CEO of his own company" and saying that the unnamed ex "pressured [me] to take an on-camera job at his company I didn't want." She adds, "When cameras were on us? He was a prince. Turn them off, he was a nightmare." During this time, she writes, her existing struggle with anorexia got worse, and:
I generally stopped speaking unless spoken to while with him, drifting through life like a ghost. I would try to sleep in as late as possible so my days were shorter. I stopped listening to music entirely. I ceased to be. I was an ex-person.
G/O Media may get a commission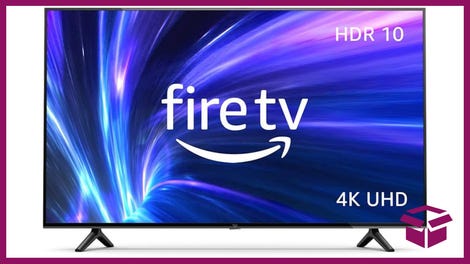 42% Off
Amazon Fire TV 50" 4K Smart TV
After three years, she left him, at which point he tried to exile her from their shared industry, threatening to cut off contact with companies that worked with her. "He succeeded. I was blacklisted," she writes. After considering suicide, eventually "with the help of a therapist, a psychiatrist, good people, plus a lot of hard work, I've managed to rebuild my life and I'm in a much better place." She gets (understandably) apprehensive towards the end of the post, anticipating the backlash that would come with ruining fans' image of a "cheery-sounding famous guy" and the victim-blaming question of "why did you stay?" She ends, appropriately enough given her personality, with a BoJack Horseman reference:
This story, post, whatever this is, serves as both closure for me as I say farewell to my twenties and stumble my way into my thirties, and it serves as a warning for every single one of you, regardless of gender. One of my favorite quotes comes from Bojack Horseman:

"You know, it's funny; when you look at someone through rose-colored glasses, all the red flags just look like flags."

Please, please, keep an eye out for those red flags.
A longtime YouTube host for Nerdist Industries, Dykstra just completed her first starring film role, in the sci-fi romance Diminuendo. Earlier this morning, as her post began to spread, she tweeted thanks to her supporters: