Having concluded with two cheery films about the aftermath of sexual assault—so radically different that "cheery" is only sarcastic as applied to one of them—the Festival De Cannes now takes a breather while we await tomorrow's awards ceremony, to be presented by a jury headed by George Miller and including Arnaud Desplechin, Kirsten Dunst, Valeria Golino, Mads Mikkelsen, and Donald Sutherland. I've long since given up pretending that I have even the slightest clue what a Cannes jury will favor—they rarely echo critical opinion, and often bestow prizes that seem not just wrongheaded but downright deranged (as when Tarantino's jury, in 2004, gave Best Director to Tony Gatlif for the now-forgotten Exiles, ignoring the likes of Lucrecia Martel, Wong Kar-wai, and Hong Sang-soo). Rather than make any attempt at prognostication, therefore, I generally prefer to act as a jury of one, handing out the festival's various awards as I see fit (while also tossing in the occasional speculation). Since I'll be able to address the final two Competition films I saw along the way, let's just get to it.
Regardless of what ends up winning, Maren Ade's nervy tightrope walk of a father-daughter comedy will be the film for which Cannes 2016 is ultimately remembered. I remain quixotically hopeful that Ade might become the first female director to be honored solo (Jane Campion's Palme D'Or for The Piano in 1993 was shared with Farewell My Concubine, in a rare tie), but Andrea Arnold seems more likely, if only because American Honey has more "weight." While Toni Erdmann's three-hour running time does work in its favor—at 96 minutes, I think we'd be talking about a completely lost cause—it's hard to imagine a film this goofy and riotous taking home the crown, despite a melancholy undertow and inconclusive ending that ultimately make it both a stealth weepie and a secret drama. The good news is that Sony Pictures Classics has already snapped the film up for U.S. distribution, so you'll eventually have a chance to experience its go-for-broke nuttiness for yourself. Try to read as little as possible.
This is a bit of a cheat, because the Grand Prix, despite sounding like it should be the top prize, is basically second place, and Paterson is actually my third favorite Competition film. But I want to give my second favorite film a different award (that's roughly equivalent in stature), so Jim Jarmusch's lovely existential portrait of a New Jersey bus driver who moonlights as a poet, played by Adam Driver, gets bumped up to runner-up. I'm curious to see what I'll think of this when I inevitably watch it again down the road—Jarmusch's Only Lovers Left Alive made me swoon here a few years ago, but the magic dissipated for me a bit on second viewing (though I still really like it). Thing is, though, what I wanted from Only Lovers was a plotless paean to art and creativity (evident mostly in its first half, before Mia Wasikowska's character shows up), and that genuinely does describe Paterson from start to finish. So I suspect that this exercise in repetition with slight variations will expand, not diminish.
G/O Media may get a commission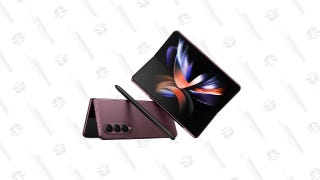 Save Up to $300
Galaxy Z Fold4
By rights, Staying Vertical should be my Grand Prix winner; I'm sticking to the Cannes rules, though, which prohibit the jury from awarding multiple prizes (except for acting) to a single film. Best Director is always tricky, because a director's job entails so many disciplines and half of them are all but invisible onscreen. In practice, I generally cite films to which my response is primarily defined by composition and/or rhythm, rather than by narrative and/or performances. (Those attributes also fall under cinematography and editing, of course, but neither one is a Cannes category.) What I remember about Staying Vertical is mostly the precision of Guiraudie's visual plan, which alternates metronomically among a restricted number of locations (open road, pasture, isolated house, underpass) in a way that lends each one symbolic import. Jarmusch does something quite similar in Paterson, actually, but I can picture Staying Vertical's imagery much more clearly, perhaps because it's more exterior than interior.
Actress: Sonia Braga, Aquarius
The embarrassment of riches in this category is remarkable and heartening (especially as compared to the meager options across the street in Best Actor). I've seen folks passionately advocating for Sandra Hüller (Toni Erdmann), Sasha Lane (American Honey), both leads from The Handmaiden, Ruth Negga (Loving), Kristen Stewart (Personal Shopper), Adèle Haenel (The Unknown Girl), Elle Fanning (The Neon Demon), and Isabelle Huppert (Elle), and won't be surprised or dismayed if any of the above gets the nod. Most impressive of all, though, was Braga's wily, sensual, almost regal performance as a 65-year-old woman fighting to keep the Recife apartment she's lived in all her life. I'm probably prone to give bonus points to charismatic newcomers and veterans who stage unexpected comebacks (that is, to actors who take me by surprise); Braga fits snugly in the latter category, but is so blatantly superb that I feel certain I'd feel the same way even if I hadn't been watching her onscreen for three decades.
As I say, pickings are relatively slim amongst the men—a lot of solid work, nothing truly revelatory. As its title suggests, I, Daniel Blake is constructed almost entirely around Johns, who injects a welcome amount of tetchy good humor (he's primarily a stand-up comic) into a role that might otherwise have come across as overly sad sack-ish, for lack of a better term. Indeed, Johns succeeds in creating the character of Daniel Blake before he's even seen—the film's opening credits appear on a black screen, accompanied on the soundtrack by Dan being interviewed by a bland social-services functionary, and the full force of the man's personality comes across from his voice alone. Honorable mention goes to Adrian Titieni as the protagonist of Graduation, whose apologetic wheedling has endless registers.
Screenplay: Asghar Farhadi, The Salesman
This is an award that I could have predicted before the festival even began, as Farhadi is, for my money, the greatest dramatist in the world at the moment (at least among those working in film). The Salesman (Grade: B+) seems to me a lesser work than A Separation or The Past, but that might be in part because I'd expected something akin to Death Of A Salesman and instead got the low-key Iranian version of Death Wish. Farhadi regulars Shahab Hosseini and Taraneh Alidoosti (that's Elly herself from About Elly) play Emad and Rana, a married couple who are currently spending their evenings performing as Willy Loman and his wife, Linda.
Early on, they're forced to move to a new apartment, and complicated circumstances involving the previous tenant result in Rana being attacked in the shower by an unknown assailant. The show must go on, but Rana's nerves have been shattered to such an extent that she can barely be alone, much less act, and Emad becomes obsessed with tracking down the culprit, who fled in a hurry and left numerous clues behind. The film is an unusually slow burn, even by Farhadi's standards, but culminates in an extended confrontation so intense that it almost becomes painful to watch. The threat of violence here is psychological rather than physical, for the most part, but nobody can engineer an escalating domestic crisis like this guy. I'm already looking forward to a second viewing, which might reveal details that escaped me due to my expectations—the Death Of A Salesman aspect was all I'd heard, and is much more tangential than I would have guessed.
Jury Prize: Elle
This is sort of a "whatever else you feel like honoring" prize. Most years it functions as third prize (and is often a tie between two films), but Tarantino's jury awarded it both to Tropical Malady and to Irma P. Hall's performance in The Ladykillers, thereby essentially creating a nonexistent Best Supporting Actress trophy. (Something similar was done in 1991 for Samuel L. Jackson's performance in Jungle Fever, but they didn't use the Jury Prize.) In any case, I'm just gonna hand mine to the film that most befuddles me, which happens to be the last Competition title that screened: Paul Verhoeven's Elle (Grade: B). Isabelle Huppert stars as Michèle, the CEO of a video game company (though its product looks more like tentacle porn) who's being brutally raped by a masked intruder literally the second the movie begins. Rather than call the police, Michèle calmly goes about her business, explaining a bruise on her face by claiming she fell off her bike (which she never once rides). That's already somewhat perverse, and the movie gets considerably less P.C. as it goes along, incorporating horrific details from Michèle's childhood; her affair with the husband (Christian Berkel) of her best friend and business partner (Anne Consigny); her efforts to sabotage the new relationship between her ex-husband (Charles Berling) and a young, hot yoga instructor (Vimala Pons); and various other seemingly irrelevant subplots. Eventually, Michèle learns who raped her, yet still doesn't go to the police, preferring to encourage the man's violent attentions. At a certain point very near the end, everything suddenly seemed to coalesce, and I was ready to embrace Elle as a seriously fucked-up but potent ode to embracing one's true self, however grotesque that self might be. The last 10 minutes or so, however, take the movie in a different direction, one that I'm having trouble reconciling with various elements that seem pretty crucial (most notably, the fact that Michèle's father has spent the past 40 years in prison for murdering over two dozen people—a tabloid sensation in which 10-year-old Michèle was seen by the world as complicit to some degree). That fit snugly in my preferred interpretation; now, I don't know what to do with it. What I can tell you for sure is that Elle deserves more consideration than it's likely to receive from some when it's eventually released (Sony Classics has this one as well). Whatever its intentions, it doesn't take anything it shows lightly or frivolously, and I expect to be wrestling with it for some time to come.
And that's the lot. Check Newswire tomorrow to see what nonsense the jury coughs up. Apologies for not covering some of the higher-profile Directors' Fortnight films, including Pablo Larraín's Neruda, Paul Schrader's Dog Eat Dog, and Risk, Laura Poitras' companion piece to Citizenfour—I absolutely wanted to see them, but all of their screenings conflicted with Competition films, sadly. And thanks for checking in every day to read breathless reports about movies that you won't be able to see for months, or possibly even for a full year. (The Lobster, which opened theatrically in the U.S. just last week, played in the 2015 Competition, for example. Café Society, The Neon Demon, and Hell Or High Water are right around the corner, though.) Hopefully, a few tantalizing films are now on your radar; like the dad in Toni Erdmann, all I wanted to do was give you something to smile about.